April 25, 2020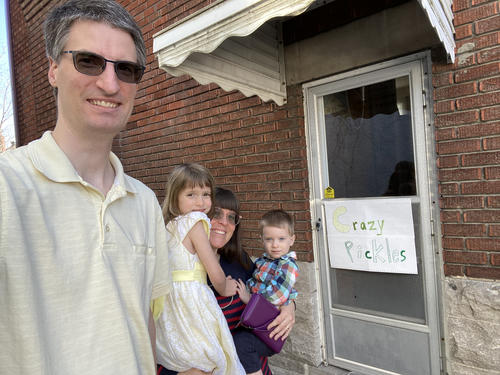 We were talking about how we might not be able to go to a restaurant to celebrate Amelia's birthday (as per tradition) and Amelia was sad. Amelia's birthday isn't until June, but it spawned an idea.
Elizabeth had the idea that we could "go to a restaurant" at home. She picked a day (using the meal plan she had already made for the month as a starting point) began working on a menu and came up with a name. She was going to be the waitress. Matthew was going to be the chef. Mommy and Daddy and Amelia and Michael were going to actually go to the restaurant.
It sounded like fun so we went with it. Unfortunately, we were missing a few key things for her menu ideas - like marshmallows. Luckily, I had the ingredients to make some. They were surprisingly fun and easy to make.
Originally Elizabeth had wanted to do the restaurant on Friday evening but I talked her into doing it on Saturday instead because Friday evenings are full of karate and I couldn't see how they could possibly prepare. We did prepare some things in advance but if I had to do it over (and it sounds like we will) the kids will have to work quite a lot harder on the getting things ready in advance. As it was I ended up as an informal third employee in this restaurant. I managed my dual roles as instructed by "going to the bathroom" then dashing into the kitchen through the other door and helping the kids quick grate cheese for the pizza etc. Actually I had to "go to the bathroom" so often and for so long that Brendan and Amelia started making fun of me. "Mom!" said Elizabeth, "next time I need you don't say you have to go to the bathroom. Say that you forgot to wash your hands. Otherwise they are going to think you are sick!" I don't regret getting roped into being staff though; Saturday was a glorious day and it would have been sad to have spent the whole day inside preparing.
Matthew grievously injured his elbow immediately before the restaurant and only managed to get himself together right before our guests arrived ten minutes before their reservation time. Thus he was not able to help setup as envisioned. Elizabeth decided he could be a waiter and gave him lines to say. It was adorable. He didn't have to write down or remember any of the orders because she was eavesdropping in the kitchen and writing them down. The kids ate in the kitchen. At first it was rather frantic and they were perturbed to see so many egg boats being consumed by their siblings "I haven't had time to eat even one yet!" but as they got into the swing of things they managed to eat.
The restaurant did have some health violations. We ran out of counter space, so started plating on the floor. I did explain that the health inspector would shut that down. "Don't let him see!" was the proposed solution. So maybe don't hire them out just yet, though they were able to articulate several reasons why this might not be ideal. At one point Elizabeth brought out a new plate for Michael. Then she picked up his food in her grubby paw and dumped it onto his old plate.
The restaurant got talked up big time before it happened and they wanted Amelia to believe it was real. She was very concerned about this idea. "How do they know the restaurant people don't have coronavirus?" she wondered. I assured her this was okay but was a little surprised by the questions she asked to verify that the staff and restaurant were really going to be acceptable. I'm guessing that the kids are going to find resuming activities somewhat stressful.
Brendan took her and Michael on a drive to pick up a clothing order - Michael's been clamouring to get in the car and we figured that would help make it more real. Also we needed to run the car engine to keep it in good operating order. When they got home, Michael had just nodded off - they got out just in time. Amelia at first refused to get out of the car, but we showed her the Crazy Pickles sign and I told her it was a magic door. She was rather incredulous that we were going into our own house but we think also relieved. I told her "it's too bad Elizabeth and Matthew can't come. I wonder where they went?!" She decided to go with it, although at first she was inclined to be all "Elizabeth PROMISED IT WOULD BE FANCY". By the time the wait staff lit the candle and brought out the drinks she decided it was fancy after all.
Memorable moments:
-Elizabeth, in the kitchen, working on getting pickle plates together looks at me and says: "in a real restaurant, do they train you first?"
-The waitstaff getting snippy with their customers that refused to eat all their pickles.
-How solemn the staff were.
-Ten minutes into the restaurant experience we suddenly heard the bells outside and I remembered WHY we had picked the reservation time to be 5:30pm. The kids charged out, rang the bells for about 30 seconds and charged back in like nothing had happened. Then Elizabeth told Brendan she hoped he enjoyed "dinner music".
-Elizabeth wondering how the pricing compared to a normal restaurant. She charged $50/adult, $30 for Michael and $40 for Amelia. She'd seeded my wallet with the right amount of monopoly money for me, Michael and Brendan. Amelia got her own purse with her money.
-Michael wanting to press the buttons on the cash register and Elizabeth telling him he couldn't because "then it will be more expensive".
-Making Amelia put her shoes back on to leave the restaurant. "Why? We're home."
-Elizabeth not wanting to let the kids in the front door to go to bed because she hadn't cleaned up all of the evidence of the restaurant. There was a colossal mess - no way we could wait!
-Amelia excitedly telling her siblings all about Crazy Pickles afterwards and telling them she wants to go there for her birthday. Elizabeth says: "Maybe you could go to Tasty Tacos or Terrible Tomatoes instead? I bet there are a lot of new restaurants we will be able to try..."
1
On April 28, 2020 at 05:04 am
Grandma Henderson
said:
Love it! Marvelous job Elizabeth and Matthew. Very fancy too. So many possibilities, Amelia! Looks like Michael really got "into" it.
2
On April 28, 2020 at 04:07 pm
Grandma Margaret
said:
A wonderful combination of charming and hilarious! Way to go Elizabeth and Matthew!
You might also like
- Great Grandma Funeral
(0.498444)
- Homeschool wk may 4-may 8
(0.493381)
- Back to (virtual) school
(0.48915)
- Mary and Andrea visit
(0.48779)
- Doors Open Ottawa: Dogs, Trains, Buses
(0.485516)
All