May 10, 2020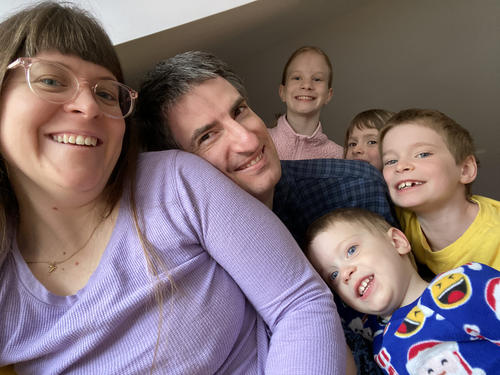 A quiet Mother's Day this year. The kids have been working hard on surprises and I was under strict instructions to STAY IN BED as there were grand plans. Said plans were shared with Daddy who greatly facilitated and encouraged the kids to follow through on their plans when some children woke up too early and were subsequently inclined to fight. Not that I heard that part.

Then a flurry of activity and I was extremely surprised to discover the kids had made about 15 cards and half a dozen gifts to open. The kids were especially excited about a new iPad as our oldest one has an annoying tendency to suddenly shutoff during video conference classes.
They also brought me toast and tea and very very dippy eggs in bed. It was luckily still edible. Michael thought he might like to have some too and started dipping his fingers into the eggs. So the kids went down for their breakfast and I had mine in solitude.
Later in the day I spent some time repotting my seedlings and hanging out outdoors enjoying the sunshine. We put up our swing and the kids were thrilled to be able to fight over who got a turn again.
After the younger three were all in bed, Elizabeth and I went over by bike to visit Grandma for a few minutes with a card and some flowers from our garden.
You might also like
- The Hippo Place
(0.390519)
- Jaundice
(0.387368)
- Grading
(0.386682)
- Virtual School: Week 34
(0.385729)
- Family Retreat (Part I)
(0.38131)
All