May 15, 2020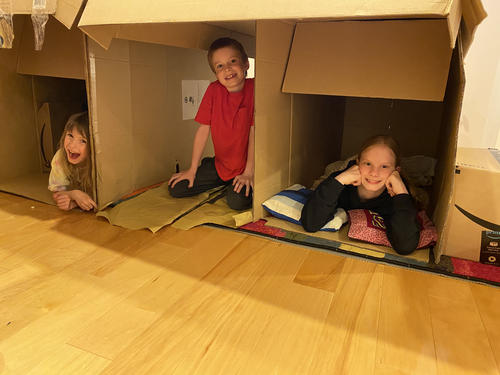 Elizabeth had a very busy week assigned to her by her teacher. Several hours of french (they are studying "le récit" and learning how to take notes). 11 pages of decimal math and fractions. Additional math on the computer. Her social studies group project was due. There was a project on the Canadian parliament (spent a couple hours doing research and there's at least a couple of more to go). That's not counting the hour of virtual gym she did with her gym teacher, her English assignment(s), two hours of zoom class with her teacher, and science. Did I miss something? Probably. It was extra hard to tell this week because the assignments were all actually reference material, and for bonus points we got the set of assignments twice.
We haven't actually gotten to decimals yet in Math-u-see, so I skipped ahead to the relevant chapter and we'll go back later. Having extra curriculum that we've familiar with has been very helpful. In class they've only just started on fractions but now are moving into mixed numbers (aka 15/5 = 1 1/2) and decimals. This seems incredibly fast to me. I can't imagine how the other kids are managing - certainly Elizabeth took much longer than a week to get comfortable with basic fractions. We've very glad we've been doing math at home all along. I'm a little annoyed with myself for slacking off with the math at home during the school year but on the other hand she's had more homework the last couple of years and needed downtime!
I think I've mentioned that we are working our way through the Story of the World 1 series again. I've noticed a definite uptick in the younger kids playing "monster" this week - possibly related to the story of the Minotaur. We skipped acro lessons for siblings this week and cut back on art as Elizabeth was so busy, but we did find time for some art class.
All in all Elizabeth spent about 10 hours this week working on projects for her main teacher and then filled the rest of her time complaining that it wasn't fair that her siblings didn't have to work so hard. Hahaha - actually while that was noted - she actually dealt with a pretty overwhelming workload remarkably well. It did not help that most of her work vanished out of Google drive on Wednesday (strangely it was replaced with what appears to be another student's work - certainly she swears up and down that it was NOT hers although it's supposedly her personal area and the edit history only shows Elizabeth working on it). She did not finish but made good progress, but was quite worried. She told me that "pretty much everyone else" was done. I texted around - this is not true. Turns out that next week's assignments are "finish last week's assignments" so it should be a much more relaxed time.
None of Matthew's friends showed up to chat this week and while I tried to arrange some alternate times none of them worked out. In consolation we extended the first recess block into the normal zoom time. He also chatted with Auntie Janice (en français) and Amelia, who isn't interested in chatting with her friends over zoom but thinks it's great fun to zoom inside the same house with her brother. I don't quite get it, but they were speaking in french to each other without needing a reminder to do so every other sentence. We're still attempting to communicate in french during the school day. Some days are more successful than others.
Attempting to make fire continues to be a popular activity. Matthew's teacher told him a story about someone starting a fire with a pair of glasses, so Matthew spent the first part of the week experimenting with various lenses. He does have something that I think would work, but he hasn't found it yet. Shockingly the pretend lens in a McDonald's toy someone gave him was not a success.
We've wanted new patio furniture for a long time - Mom and Dad gave us their set that was on its last legs a decade ago and we intended to use it for a couple of years while we found something we liked better. Trouble was that Brendan and I couldn't agree. We've crammed around the tiny and admittedly rickety table for years. This year I decided enough was enough so even though there's still nothing out there that I adore, anything will be an improvement at this point. The kids are excited to have enough space to all eat at the same table without spilling each other's water, but the best part was the GIANT BOXES in which the chairs arrived. They promptly commandeered as much of the packaging as allowed and built a cardboard castle in the basement. Matthew was extremely happy to be allowed to take apart the pallet upon which the boxes arrived - any excuse to use his tools!
Amelia and Matthew did a rainbow experiment - a repeat of something her teacher demonstrated. We've done this one before but they insisted they wanted to do it again. Also on the science front we're still looking after our seedlings.
This week, Matthew worked hard on the assignments his teacher sent. He was enthusiastic about making a clock and writing emails and not at all interested in learning his words for his dictée. As one might expect.
There was circle time with Grandir Ensemble and the Ottawa library for Amelia and Michael. We did try to do the suggested activities with Amelia but a couple of the pages caused our printer to print reams of paper (well - more than 50 pages anyway) so I'm pretty sure I missed printing some things. She wasn't interested in more writing related tasks though and the curriculum is supposed to be play based so that's what she did!
Amelia and Matthew had their last piano classes of the year. They weren't super excited because we've agreed to a reduced practice schedule until June.
Elizabeth made supper on Monday, then we had formal cooking lessons via the curriculum I picked up a few years ago covering all kinds of different measurements. Amelia felt strongly that it didn't count as cooking class unless you ended up with something to eat at the end, so we applied our skills by making peanut butter chocolate chip cookies.
Also this week: our first meal outdoors of the season. There was no photo because someone had a class or something. Such is the current state of the nation.
You might also like
- Homeschool wk may 4-may 8
(0.552679)
- Back to (virtual) school
(0.52989)
- Homeschool wk may 25-29
(0.527317)
- Homeschool wk apr 27-may 1
(0.527146)
- Homeschool wk june 8-12
(0.518862)
All