April 29, 2010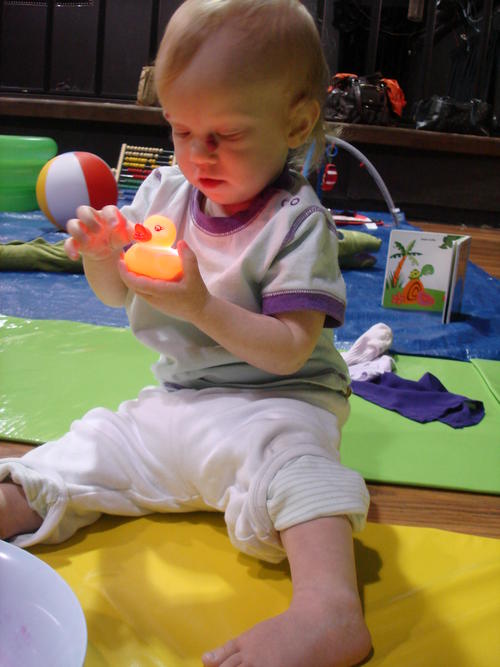 Elizabeth and I went to a Baby Sensory make-up session today (we had a slight interruption due to the last fire in the Glebe). From Elizabeth's perspective this was an excellent week for double Baby Sensory, as it was bring-a-change-of-clothing day, otherwise known as playing with water!
Instructor Clarissa had these awesome glowing ducks from the dollar store that lit upon contact with the water. Apparently there are frogs available too, which I am seriously considering trying to acquire. Clearly for Elizabeth's sake...
One of the activities included using a blue tarp as a parachute. Under the parachute all kinds of streamers and foil fish were hung for the babies to admire. Some of the babies were really interested but Elizabeth was a bit scared.
After Baby Sensory we went to the Ontario Early Years Centre down the road for the drop-in and toy library. The last few times we went there were only a few other kids but today they happened to have a free dental clinic while we were there and it was buzzing with activity. Apparently Elizabeth has eight teeth (!) She didn't appreciate her tooth inspection or gum poking too much but smiled afterwards when presented with magnets and a new toothbrush. The City of Ottawa recommends that we brush after every meal, including breastfeeding. Even though the toothbrush glows in the dark, I'm still not getting up to brush teeth after night feedings.
You might also like
- Bold Baby
(0.375862)
- 52 cm of Snow
(0.364301)
- Colonel By Day
(0.363801)
- Swimming lessons
(0.361483)
- Ballet
(0.360875)
All