May 22, 2020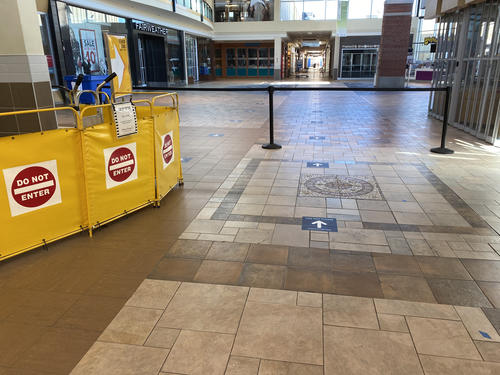 We were getting a bit low on groceries, so I decided that it was time to go shopping.
First I went to Loblaws Isabella. I knew I needed all the space in my cart as I had a long list so I didn't text anyone else to ask if they wanted groceries. Besides, it was 8am - pandemic style shopping means that I need to get to the store before 8:15am if I want to avoid standing in a line.
Since last time I went shopping there's been a noticeable decrease in people wearing masks. This time it was probably closer to 50% of people not wearing them. It also seemed like there were many more regular shoppers than my last couple of shopping experiences. In fact, I felt the store was a little crowded for my liking. Only two cashes were open and I had to wait nearly 40 minutes to checkout. My cart was too full and stuff kept falling off as I went down the ramp on the way out the store (a factor I had forgotten to account for!) It was pretty stressful, especially since I had to unload my groceries and pickup our Walmart click and collect before 10am. By the time I had finished it was 9:30am!
The Walmart order pickup was uneventful and I wasn't late. We'd timed it for 10 because that's when the Natural Food Pantry opens and I was hoping to get some more gluten free cereal. It was my first time going to Billings since early March. I've never seen the parking lot so empty! When I arrived, I parked near the main entrance, which turned out to be the wrong one. Only entrance 6 near the Independent was open. You go inside and sign in with the security guard. Signs on the door state you may need to show ID but he only wanted to know which store I was going to. It was very strange walking around indoors in an essentially deserted mall. The pharmacy was open, the grocery store and strangely, the cellphone store right at the entrance of the grocery store. The elevator was undergoing active repairs. I walked up to the Natural Food Pantry and was able to walk right in. In fact, aside from one of their two doors being closed and all customers needing to walk down a particular aisle to enter, it was a remarkably normal shopping experience. I was the only one in the store, so I grabbed my four bags of cereal and went to the cash. "Someone having a hankering for cereal?" the cashier asked. I can only imagine what he thought when I went back about 45 minutes later to buy 7 bags of chocolate for Auntie Janice!
I had texted her and some neighbours to see whether they wanted anything from the Natural Food Pantry and long story short I found myself wandering into the Independent to pick up a few more things and to check out if they had any yeast (spoiler: they did not). Another full cart later and I think I might have spent the most money on groceries that I ever have in a single day! I was interested to see that the Independent was super quiet and it was a really nice shopping experience.
You might also like
- Social Distancing: Day 31
(0.459064)
- Homeschool wk may 11-15
(0.431483)
- H1N1 Rock Concert
(0.424791)
- 18 Months
(0.421456)
- Pandemic ER
(0.419408)
All