June 6, 2020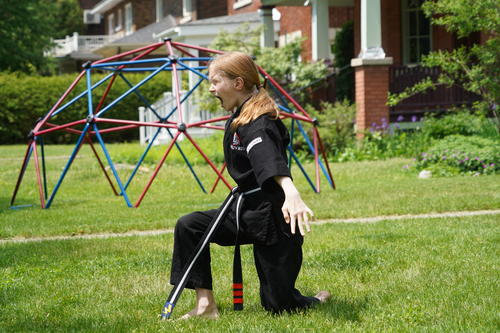 Not to be left out Dourvris decided to run a virtual in-house tournament as well. The interesting thing about this in-house was that as it was virtual they decided to include their Central American locations as well. The kids thought this sounded like fun until Elizabeth's judge turned out to speak next to no English. Mommy and Daddy thought it was amusing but Elizabeth was distinctly unimpressed. She decided to do her kata inside so she could wear her white gi and did a pretty good job (getting high praise from the judge following her routine). We felt she even had a shot at first given the other competitors and were quite surprised when she got 4th instead. Turns out this may well have been the judge getting mixed up (he had made a similar error earlier) as when her virtual certificate arrived it said 2nd. So who knows, but she put in a good effort. In Bo she lost to Daria but that's not too surprising as Daria has been doing Bo longer.
Matthew has improved a bunch but still tends to rush. He's doing much better at not forgetting parts but still has to focus very hard and lacks power in his kata. Still he's clearly getting better so that's exciting. Matthew got 9.95 and came middle of the pack.
Erika is doing the same kata as Elizabeth (because the dojo had a pile of kids all doing it and no one else at Erika's level on the team) and as such it is a pretty hard kata for her level. She too is showing consistent improvement which is nice to see.
Overall the tournament was fun but a little less organized that the SMA ones we've been doing lately. I guess that's hardly surprising given the amount of effort the SMA ones must take to put on but still a bit disappointing to only have one judge per division. The kids still think it is all lots of fun and are looking forward to the next tournament.
You might also like
- WKC Worlds
(0.414761)
- Sanitizer Showdown
(0.412362)
- Viral Vortex
(0.412297)
- River Oak
(0.405268)
- Grand Slam WKC virtual worlds qualifier #4
(0.404706)
All