June 2, 2020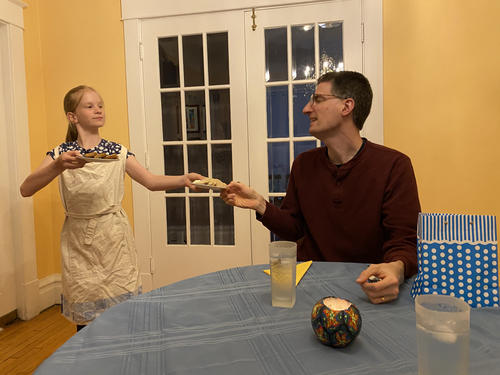 We obviously couldn't go out to celebrate 19 years of marriage, but we did manage dinner and a movie. Elizabeth graciously agreed to act as our waitress for the evening.
The other children were fed at 4:30pm and put to bed absurdly early (everyone was in bed by 6:30pm, if not exactly all asleep). I had prepared food in advance so Elizabeth just had to bring it out. She coveted our dessert but not the garlic stuffed mushrooms!
After supper Elizabeth put herself to bed and we watched "About Time" which we both enjoyed.
Hopefully the world will have sorted itself out by our two decade mark next year, but it was quite a lovely night "out".
You might also like
- Valentine's Day (Love Shack)
(0.326633)
- Vera, Astra and Magnus
(0.326014)
- Matthew and Elizabeth spectacle
(0.325368)
- Victoria Day Fireworks
(0.317979)
- Married for 18 years
(0.31672)
All