June 3, 2020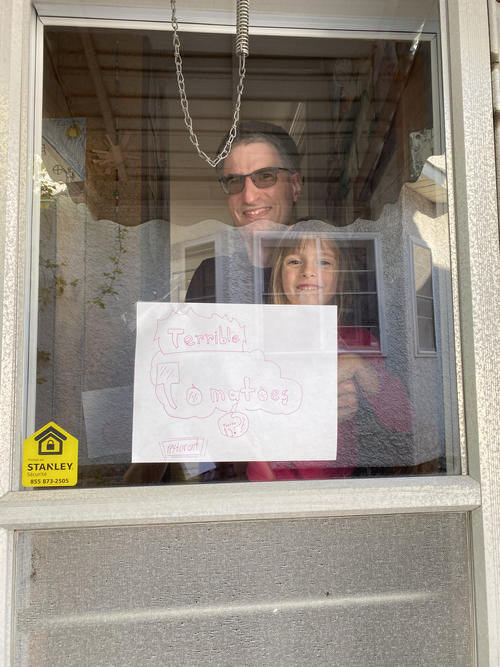 Amelia wanted to go to a "magic" pasta restaurant for her birthday supper. Elizabeth used one of her quiet times to invent a menu and make an appropriate sign.
We deliberately kept the menu a little simpler (though I wished we'd saved the jello cups for the restaurant- that would have been easier to serve!)
Amelia, Daddy and Michael drove to Lorianne's house to pick up a present from Lorianne's roommate, which provided an excuse to drive to the restaurant. This also marked the first time we refilled the gas in the van since pandemic restrictions came into effect (and the tank was only at half).
I only had to "go to the bathroom" once at the beginning (because we hadn't had time to make the rainbow drink in advance), and then "I just went to check on the kitchen" to help with unmolding the jello. I am also happy to report fewer health violations. The kitchen might have been slightly less attentive than at Crazy Pickles and may still need to work on plating skills but it was less stressful.
Amelia loved it and says she hopes to go back to another magic restaurant soon.
1
On June 9, 2020 at 00:07 am
Lorianne
said:
Love this :) You guys are so creative. Looks like it was a lot of fun. Thanks for the pictures :)
You might also like
- Happy Birthday Uncle Chris!
(0.363636)
- Piano Recital
(0.362162)
- Party
(0.354526)
- First outings: Music, library, karate
(0.351016)
- Orange swimsuit please
(0.348958)
All