June 19, 2020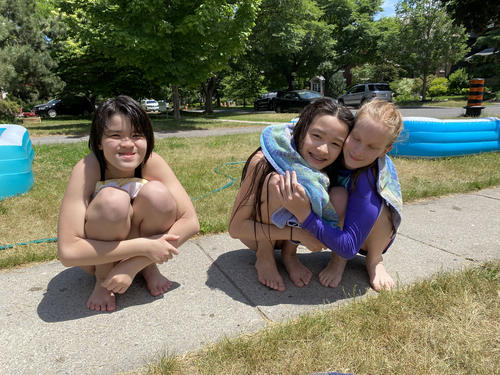 It's the last day of spring and the first day of summer holidays so we thought we'd better finally have our long anticipated "spring tea party" before it was too late for the second year in a row.
We invited Erika and Maria to come over with their bathing suits and we pumped up two of our paddling pools.
Then we brought out our tea. We had dolmades, cheese and regular gf buns, chopped veggies, a cheese platter, a meat platter, cake, cookies and of course tea. I made a fruity tea (cranberry orange), Earl grey and Mint.
It's 36.7C outside in the shade according to our garage, so the pool and shade was quite appreciated. I put all the food out on ice packs.
Michael splashed around, ate and then curled up and went to sleep on the porch just like a little cat. He's been pretending to be a cat rather a lot lately so I'm not sure this wasn't deliberate.
Auntie Yukiko and Grandma came by as well, so after a quick "swim" Brendan and I went back inside to do some actual work while the partying continued on outside.
You might also like
- Camping
(0.372986)
- Maria arrives!
(0.36896)
- Christmas
(0.355872)
- Strike Day
(0.351609)
- Canoeing
(0.351563)
All