July 1, 2020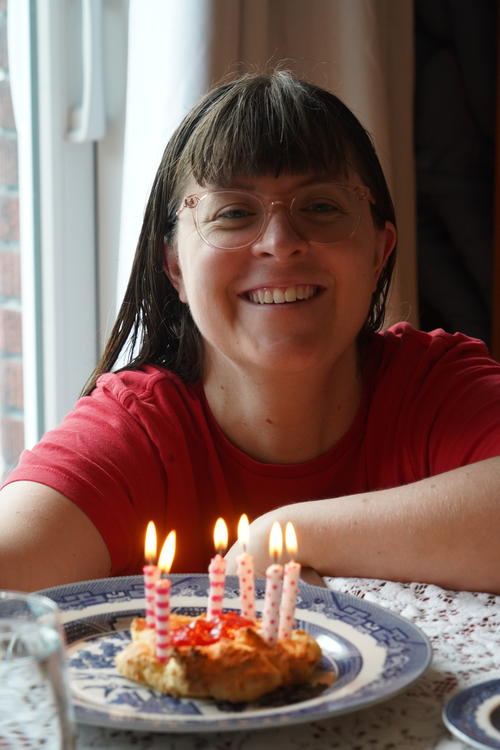 When I first woke up, Daddy asked Michael to look out the window to see if there were any fish and there were! Looking to see if there are various ridiculous things outside is a bit of a stall tactic we use with the kids to get more sleep. I think this is the first time there's actually been something to see!
I was very excited to view Auntie Janice's beautiful artwork.
I didn't get around to deciding what I was doing for my birthday until the very last minute, because as I explained to the kids I was too busy sulking about not being able to do what I wanted to do to actually figure out what I could do. The kids thought this was very silly, and helped me figure out a plan.
In the morning we had breakfast and went for a family bike ride (plus Erika). Then we came back home for a BBQ lunch with our entire bubble. Yukiko very kindly cooked for me. We went up to the locks and got sidetracked watching a boat go through so we were a little later getting back than I intended so we watched the Canada Day midday show during and after lunch. Auntie Janice was featured during the O Canada sequence at the end - we needed a little help to be sure we found the right singer though!
After lunch we made jello flowers again. I tried my hand at a Canada flag! Then we had a birthday zoom. I served a Canadian themed layer jello (strawberry cheesecake flavour) and birthday cake for the bubble crew.
Then I helped Elizabeth and Erika get ready for Leaping Lemons - my birthday restaurant!
After everyone left and Michael was in bed, the rest of us watched firework reruns on TV. All in all a highly satisfactory day.
You might also like
- Christmas
(0.405951)
- Party Day
(0.402151)
- Missed the bus, Concussion, Matthew gets a stripe
(0.400201)
- Winter Celebration
(0.398398)
- Happy Birthday
(0.397358)
All