July 1, 2020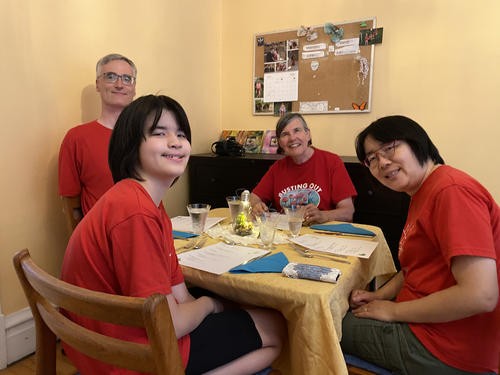 Erika and Elizabeth decided to plan a new restaurant a couple of weeks ago, all themed around lemons.
Elizabeth suggested she might like to do the restaurant for my birthday and I decided I'd like to do this. Yesterday. Which perhaps might have been a bit unfair as it gave the girls very little time to prepare. I did give Elizabeth the entire afternoon off school the day before to prepare, and Erika was there to help.
One complication of having decided so late was that I was shopping for fish at 5pm the day before Canada Day. Needless to say the options were limited and I decided to try frozen with some trepidation. It was actually the right decision - I think the frozen fish was better than the fresh stuff I found. Erika wanted a certain flavour of chips that were nowhere to be found so I bought a backup option but I neglected to buy a backup sorbet, which in retrospect was an error.
There was much baking and planning and zesting and lemon squeezing. Three different kinds of lemonade were made (mint, plain and pink - using strawberry and raspberry puree). By the time the restaurant was due to start all of the food was prepped and ready to go, with the exception of the sorbet which the girls had unfortunately left to the last minute and tried to hurry up by opening the freezer every 20 minutes to check whether it was frozen yet. Strangely this didn't help.
Matthew isn't a strong reader yet so the plan was for him to take orders and the girls would listen to the answer and check it off on their cheatsheet in the kitchen. Unfortunately we underestimated how much more difficult it would be to have multiple tables and they had a hard time hearing. Ordering took a long time and Elizabeth and Matthew disagreed on what people had ordered, leading to a revolving door of waitstaff coming to check what was needed over and over again as well as some frustration and hurt feelings behind the staff only door.
They also forgot to assign someone to be cook, so their original plans had to change on the fly. Erika took over cooking duties very well, aside from one small error that arguably was my fault as the prep cook. I had put the broccoli out into the steamer but hadn't filled it with water. The broccoli was served raw, but slightly singed. Despite the kitchen filling with smoke and nervous giggles emanating from the kitchen no adult intervention was required. In fact, I am pleased to report that I did not need to go into the kitchen at all during the meal.
They did a really good job with the food. The fish was really good and the cookies were especially divine. The guests all enjoyed the restaurant very, very much.
That's not to say the restaurant ran entirely smoothly. Erika panicked and sent the first course out on small plates with no sides. Then they decided that everything had to match and so all the food came out on small plates with the sides following somewhat randomly. The sorbet refused to freeze in the extremely warm kitchen and was served as an exquisite slushie instead. The staff ended the evening extremely tense and Elizabeth burst into tears, declaring that she was never going to run a restaurant again.
However, after the staff sat down to their own proper meal after the restaurant had closed and with a post-mortem chat, some hugs and some making up, tears were dried and plans began for "next time".
I just hope they will make me more lemon cookies...
You might also like
- Crazy Pickles
(0.453901)
- Homeschool wk apr 27-may 1
(0.452804)
- Virtual School: Week 35
(0.44694)
- Karate Tournament
(0.446532)
- Great Grandma Funeral
(0.445389)
All