June 28, 2020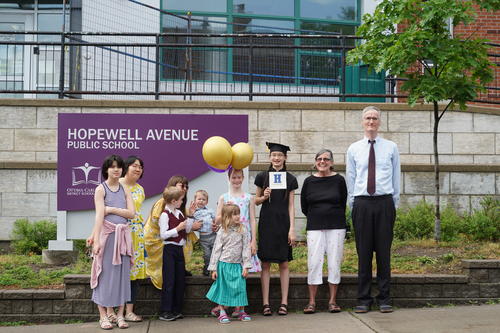 Erika has completed grade eight and is on to high school in the fall! Assuming we have school in the fall, of course...
Anyway, Uncle Chris wasn't feeling well for our originally planned graduation party but he was feeling better (and had a negative Covid-19 test) so it was on with the party.
I made "not too sweet" cupcakes for the occasion and Auntie Yukiko arranged many other nibbles. We set up chairs and made Erika wear the silly hat and do the walk. Then we watched the graduation video and some very sweet messages from various family and teachers. Erika won the principal's award for her class!
It had been pouring rain but it let up enough to allow for a walk down to Erika's school for some photos and tossing of said hat.
Then Erika and Maria came home with us for a sleepover!
You might also like
- Cousins move in
(0.346097)
- Spring Tea Pool Party
(0.324773)
- School Concert
(0.320661)
- Christmas with Great Grandma
(0.319123)
- Uncle Dave
(0.318519)
All