July 4, 2020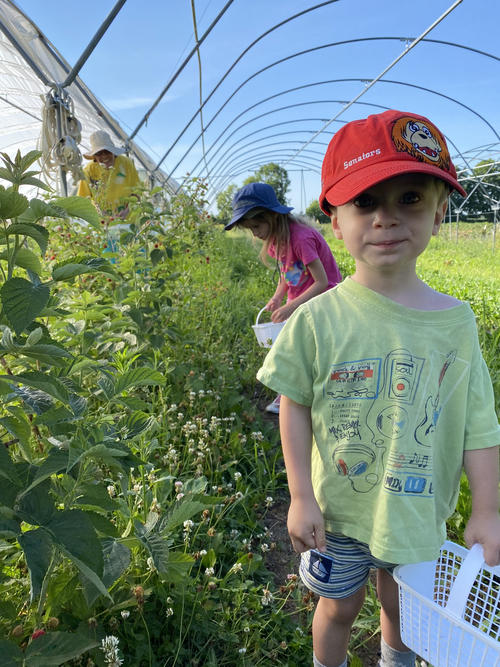 We totally missed berry picking season last year so we decided we'd better get going. We went for opening in order to try to beat the heat - it's been very, very hot for days. I should have called in advance because apparently Rideau Pines got picked out of strawberries on Canada Day and raspberries haven't really started yet.
They took pity on us and allowed us to see what we could find. Even though technically they were selling neither strawberries nor raspberries we took home both! The picking wasn't great (but I've seen worse) and since I had already made strawberry jam my goal of a fun outing was easily met.
We came home in time for Isabelle's birthday zoom, though I didn't quite have our cake ready in time to sync up the Happy Birthdays. Luckily she didn't mind doing it a second time!
Elizabeth has been practicing her signalling while on her bike, so in the afternoon we played on the swing and on bikes, and we finally got around to eating the other jello we made on Canada Day. I was quite amused by my Canadian flag version.
Then we put the three littler kids to bed early. Elizabeth was then in charge of babysitting in case of shenanigans and watering the garden while Brendan and I went on a Live History zoom date. Strawberry Blonde dropped off gluten free desserts and we set up in the basement to pretend we were early 1900's passengers on the Carpathia (sister ship to the Titanic). It was all good fun. The actors used the technology pretty well, sharing their screen to play various period games and "passing" items from screen to screen.
You might also like
- Chateau Laurier
(0.402791)
- Dovercourt
(0.400398)
- London
(0.397326)
- Preschool duty days
(0.391572)
- Matthew's birthday party
(0.389713)
All