May 4, 2010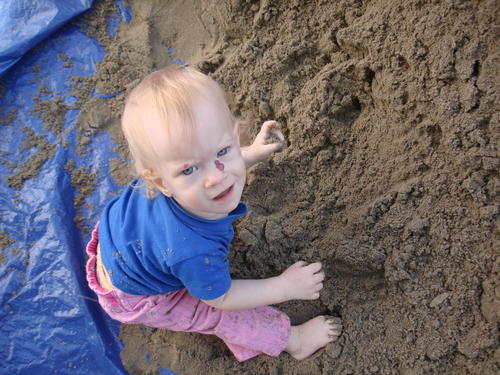 Given Elizabeth's love of all things sand, we decided to have a sandbox at home as part of the playstructure we're planning to build. Cousin Erika got a sandbox too for her birthday, so it made sense to order the sand at the same time even though we haven't quite gotten around to actually building our sandbox yet. (Now we have motivation!)
The sand arrived today. Auntie Janice and I may have enjoyed it almost as much as Elizabeth. Although we didn't feel the need to indulge ALL our senses.
Obviously we're going to have to come up with a way to rinse before coming indoors if we don't want to replace our plumbing again.
1
On May 6, 2010 at 09:37 am
Grandma H.
said:
What fun! Liked the lion--is the next one of Elizabeth growling?
2
On May 6, 2010 at 05:27 pm
Stephanie
said:
My husband built a large sandbox in our backyard this past December and our girls love it. We play in it almost daily. :)
3
On May 8, 2010 at 01:32 am
S.I.F.
said:
So fun! I love some good sandbox play!
You might also like
- New back
(0.348031)
- Great Glebe Garage Sale
(0.335953)
- Josie and Daniel
(0.330389)
- Playdough
(0.329897)
- Baptism
(0.329435)
All