July 5, 2020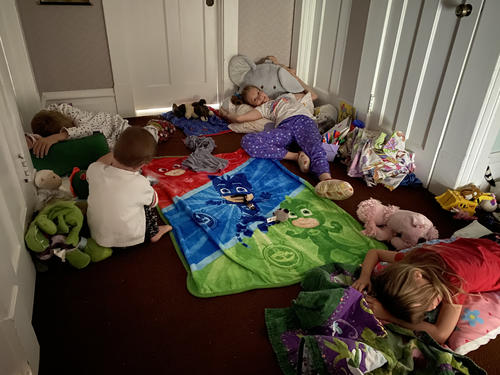 One of the ideas on this summer's bucket list was to have a "lazy day". So after church the kids put back on their pjs, dimmed all the lights (including putting cushions to block windows where the curtains were deemed insufficient) and had a tea party.
Apparently the idea was that they had to "relax" for 30 minutes with their stuffies before they were allowed to have the tea party, but predictably the younger kids weren't doing it right so after a bit of a kerfuffle Amelia went off to do a lazy day "playing by myself without annoying people around me". "Mommy? Can I tell you something? That was just TOO LONG to be quiet!"
Elizabeth was inclined to cancel the lazy day altogether if "no one else knows how to be lazy but me" but Matthew fetched her some tea which considerably smoothed rumpled feelings and Michael gave her some "tisses". Then the remaining kids watched many hours of inspector Gadget en français (Amelia doesn't like Inspector Gadget so declined to participate).
It was a very lazy day.
You might also like
- First day of Holidays
(0.361371)
- 12 Days of Christmas: New Year's Eve
(0.358134)
- Piano Recital
(0.350685)
- Fall summer
(0.349412)
- Come Sing Messiah
(0.346205)
All