July 7, 2020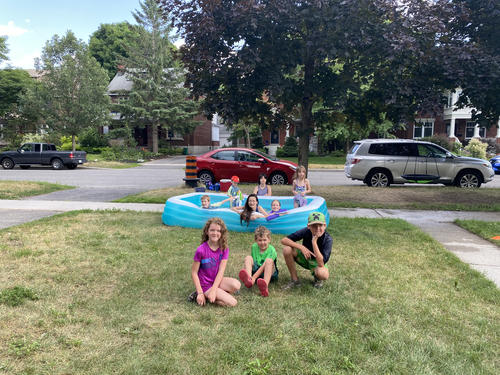 We thought it might be nice to have one day where all the cousins could see each other, if only at a distance. I suggested that cousins come to our place and we could play on playstructure equipment while taking turns. The kids also wanted to have a distanced water fight. I had an elaborate plan for swapping some kids to the backyard so that we didn't go over our legal limit of 10 people for a gathering. Maria had to go and pick up her passport at the embassy for her Japan trip so that meant that we were only 11 people right until it was time for Xander, Isabelle and Theo to leave. In the end we decided to just do a gathering of 11 and if someone asked about it we could always send one of our crew indoors.
Janice set up zones with cones and we rotated from one zone to another. One zone had the pool and soccer area, one zone had the playstructure (with sprinkler because otherwise it was far too hot in the sun) and the other zone had the swing and bubble machine.
I thought it worked okay although we could have used a second water gun filling station as this was a temptation for people to leave their zone.
First we had a water gun fight, then we tossed water balloons back and forth, then we kicked a soccer ball back and forth and then we had more water guns. It was a super fun afternoon, despite being a bit weird.
You might also like
- Apple Picking Reprise
(0.367521)
- Recital, Home Depot, movie night
(0.359509)
- Farewells
(0.356164)
- Piano Recital
(0.354362)
- Mother's Day
(0.353383)
All