July 24, 2020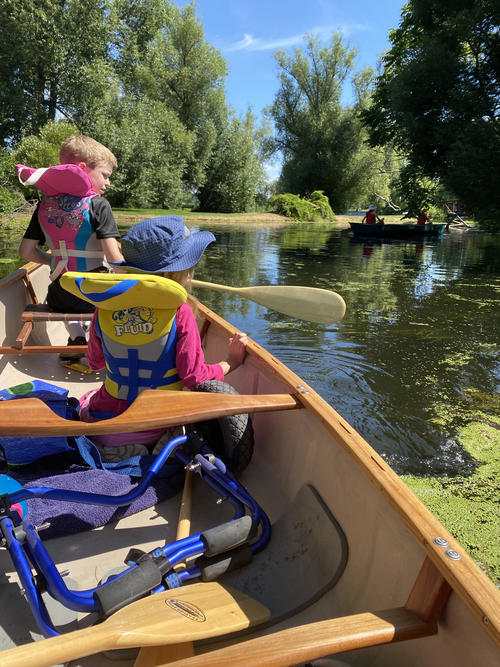 In ordinary times we would be celebrating the Olympics so we decided to have an Olympics themed week.
Monday, Elizabeth and I went sailing. Or rather, we attempted to go participate in the sailing time trials but our boat had technical issues and we ended up motoring out and back in (we couldn't get the main up). It was super windy and we were extremely shorthanded so we had just planned to cross the line and then retire. In any case it was nice to get out on the water again.
Tuesday we participated in the Triathlon.
Wednesday is karate day around here. In addition to our regularly scheduled activities, the kids decided they wanted to do some sparring and dance. Sparring was a bit fraught with peril. Matthew was inclined to take the excuse to wallop Amelia, and Elizabeth kicked Erika very hard in the chin. They decided to stop before we needed an ER visit but we'll try again soon.
Thursday Brendan set up a makeshift "net" and got the kids playing badminton and volleyball. When they got bored they used the rope to make hammocks. Or as Brendan put it "they did terrible, terrible things" with the rope.
Friday I took the canoe for a walk again, just me and five kids. We rented one canoe and paddled across Dow's lake in the blazing hot sun. We immediately headed for the little wooden bridge and spent some time paddling around that little space in the shade. Elizabeth and Erika were very entertained paddling through the branches dangling into the water until they discovered that there were spiderlike bugs in the branches. Luckily Elizabeth did not swamp the canoe in the resulting excitement.
In the non-sports side of life, Amelia finally went to get her 4-6 year old vaccines on Monday. Don't get me started on why she doesn't already have them or why she needed a third chicken pox vaccine but she's up to date now. She had no trouble wearing a mask and happily told the technician all about how her big brother once hid under a chair to try and avoid getting his flu shot but "SHE'S the bravest". She didn't cry at all. After the doctor's we went to the library for the first time post pandemic to pick up some holds. We had to make an appointment and you can only get one per week AND I'm not used to this so I missed the first one. I was a little worried about missing my time slot and not getting our books but it turned out to be remarkably painless. Let it also be known that I very nearly (but not quite) managed to pass as a francophone. About five minutes into my interaction with the librarian I couldn't remember the word "renewal" and she suddenly looked horrified and said "Oh! I thought you were francophone but would you prefer service in English?" (she had started out speaking to me in french and I just went with it). Anyway I was quite proud.
Matthew finished off Math U See Beta this week which means he's moving on to multiplication!
We did a bunch of art - I suggested we skip the Star Wars JJK episodes but apparently that was crazy talk. Daddy had sent me a video showing how to make a silhouette video featuring an elephant so we sacrificed a toothbrush and tried it. The result wasn't quite what we were going for but we learned a lot and everyone had fun aside from those of us who had to scrub paint off the floor.
You might also like
- Homeschool wk apr 14-17
(0.462885)
- Homeschool wk may 4-may 8
(0.461201)
- Family Day
(0.460272)
- Homeschool wk may 11-15
(0.458527)
- WKC World Championships
(0.454008)
All