August 7, 2020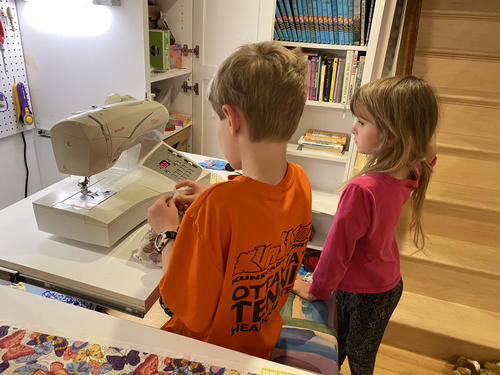 Last week of home school before the cottage!
It was a little rainy. This did not prevent the kids from having fun. Elizabeth and Erika had a sleepover at our house, and a sleepover at Erika's house. The girls planned to bike to Erika's (so independent!) and there was no thunder so they went even though it was pouring.
Matthew and Amelia invented a hammock. We did some physics (we're learning about energy). There were many forts. Some were acceptable to sleep in, some were vetoed.
We played math games. Elizabeth started decimals. Matthew is still working on his two times tables. Amelia started working on writing her numbers up to 20.
There was some drawing. Elizabeth is working on a cartoon about a spy dog. The kids also spent a lot of time playing a secret game about a library which required them to write a script for answering the telephone and Elizabeth to dress up as a rather crotchety old lady. They loaned out books, some of which I think they made first, but since it was secret we weren't supposed to know the details.
Our adventure this week was going to the agriculture museum, although we ALSO went swimming so it was an extra adventurous week.
Matthew started working on sewing a quilt for Amelia and almost finished it. Unfortunately he needed to rip out quite a few seams but he's having quite a good time. Erika and Elizabeth are working together on making a dress for Elizabeth using a free pattern I downloaded from the internet.
For music I worked with Matthew on learning Frère Jacques and the other kids sang. We did various online apps and Elizabeth practiced her piano. Elizabeth made pork chops for supper but we didn't manage a cooking lesson for the other kids.
Gym this week wasn't terribly formal outside of extracurriculars - we did a karate video and then a lot of running around outside.
The other big excitement of the week was that Elizabeth and I went sailing for the last Monday time trial of the season. Elizabeth got to drive!
You might also like
- Summer school jul 20-24
(0.408403)
- Virtual School: Week 10
(0.402562)
- Strike Day
(0.4)
- Music
(0.399632)
- Social Distancing: Day 3
(0.398005)
All