June 17, 2020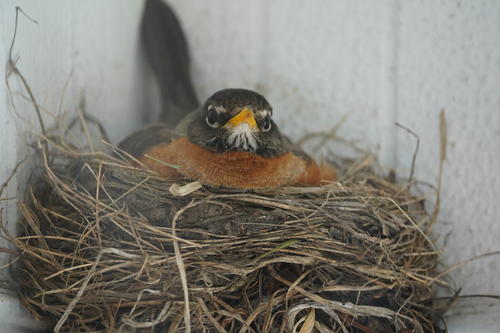 We were kind of chagrined but also excited when a pair of robins decided to build a nest on our front porch. It's a fairly high traffic area, so they were constantly being annoyed by the mail, delivery people and kids running in and out.
We quickly put up a sign and stopped using the front door, and settled in to watch Mama bird.
Originally, the birds started building two nests but one was quickly abandoned and fell to pieces. The final nest only contained one egg (we snuck a look with our camera one day when mama bird was off getting breakfast).
Unfortunately a few days later there was a ruckus and then the birds never came back. Eventually we took another look in the nest and the egg was gone! We suspect a squirrel :(
The robins are still around, so we hope mama managed to build a safer nest somewhere else.
You might also like
- Garden
(0.321564)
- Ski
(0.32)
- LRT Grand Opening
(0.319718)
- Tulips
(0.319588)
- Happy Birthday Janice!
(0.317797)
All