August 15, 2020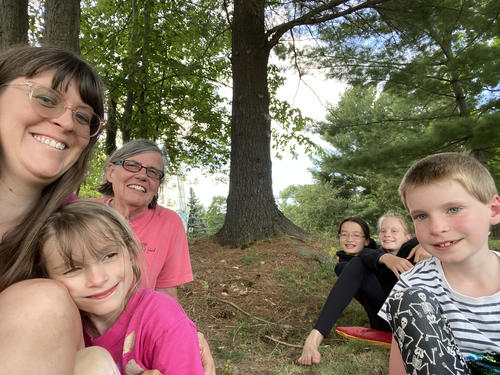 We were somewhat surprised to learn that the water ski show was still happening despite pandemic.
It was water approach only, so we weren't sure whether we needed to stay in the canoe the whole time. Brendan thought Michael ought to go to bed since it was past his bedtime and he's not fond of long canoe rides, so they stayed home while the rest of us piled into two canoes and paddled across the lake.
Once there we figured we'd be swamped with all the motorboat action and they didn't mind us sitting on shore so we pulled up our canoes on shore. It was a bit weird because all the sound was aimed out to the lake and the action was quite a bit further out. We couldn't really tell what was going on aside from what we could see and what we'd seen last year. It was still fun, although Erika thought there were too many mosquitoes.
Then we paddled home at sunset.
You might also like
- Cottage Days: Jack and Olivia
(0.366942)
- Camp Otonabee
(0.348266)
- Lac des Loups
(0.339422)
- Gatineau Park Ski
(0.338235)
- In which we introduce Elizabeth to our main hobby
(0.337818)
All