September 6, 2020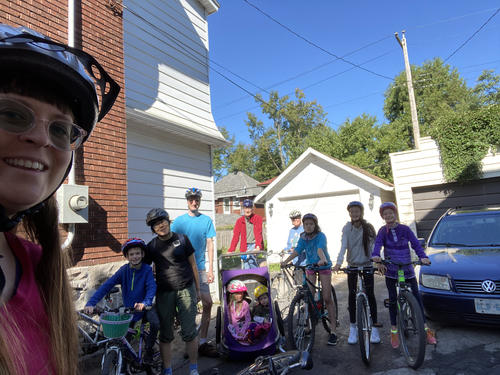 Over the summer, the kids (especially Elizabeth and Erika) went biking with Grandma from time to time. Early on, they decided that one of their summer bucket list items was to do a long bike ride to Aylmer Island at the end of the summer.
Last week we realized that we were running out of time before school started. The weather was not great all week but Sunday seemed acceptable and before we knew it the entire bubble was ready for our grand expedition! Grandma does more biking than the rest of us and she reckoned it would take about an hour to bike out, half an hour to recover and an hour to bike back. Let's just say that Grandma is a wee bit faster on her bike than the rest of us, so it actually took us about five and a half hours with lots of stops to admire the scenery, a stop for a snack and washroom break at Aylmer beach and a very popular stop at the Cassis Gelato et Sorbet Maison for the most enormous "small" scoops I've ever seen. Our group tried marshmallow, chocolate, lemon and blueberry. Apparently they were all very nice.
Yukiko had a meeting in the afternoon, so she only rode with us to Remic Rapids, but the rest of us managed the entire 30km round trip.
I should add that I was by far the slowest on the trip out, hauling 63 lbs of children + water and snacks and other things in the Chariot behind me. Luckily Brendan agreed to pull the chariot and also some of the children were tired on the way home so I actually found the way back much nicer than the way out. The scenery was beautiful and we enjoyed ourselves very much.
You might also like
- Mother's day
(0.390766)
- Homeschool wk june 15-18
(0.37522)
- Halloween
(0.372826)
- At Mary's
(0.365079)
- Lucy and Jack
(0.364939)
All