September 5, 2020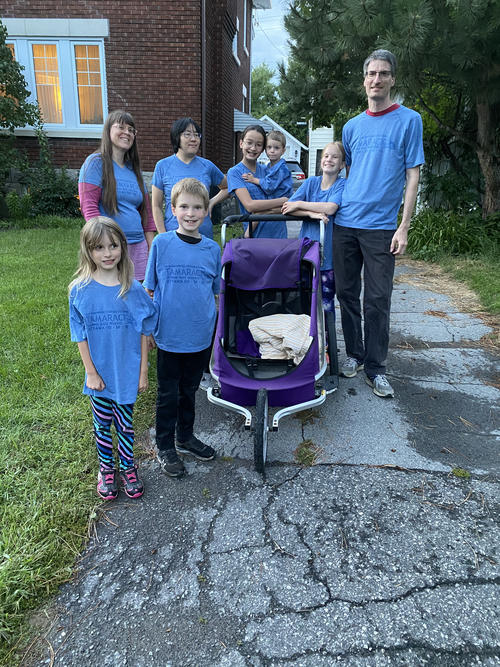 We all signed up for the Ottawa Race Weekend in May, but it was obviously cancelled. Instead they sent out race kits to do at home and we were invited to run our race any time before September 7th. We kind of left it to the last minute, but we didn't receive our medals until Auntie Yukiko was in Japan, so there was some justification for the delay.
Then we realized that we had actually signed Erika and Elizabeth up for both the 2k and the 5km and Yukiko didn't actually get around to registering before the pandemic hit! Anyway, our results were supposed to be submitted by September the 7th so we decided to do our run after dinner. The girls ran from the corner of Bronson and Carling up to Hartwell locks and back by themselves, while the rest of us ran from Bronson and Carling to the far end of Brown's inlet and back. Uncle Chris was the official timer and medal holder.
Auntie Yukiko got Erika's 2km medal, and although I tried to get Maria to come run we ended up letting Michael wear Elizabeth's shirt and 2km medal. He was extremely pleased with himself.The girls say they will still run again later sometime but we won't bother with official results.
The 2km boys finished in 19 minutes. The 2km girls not far behind at 20 minutes. Erika and Elizabeth finished in 34 minutes.
You might also like
- Easter
(0.377717)
- Family Day
(0.36472)
- Race Weekend (Children's Marathon)
(0.362622)
- Cottage Days: Jack and Olivia
(0.359773)
- Huntsville
(0.357555)
All