September 11, 2020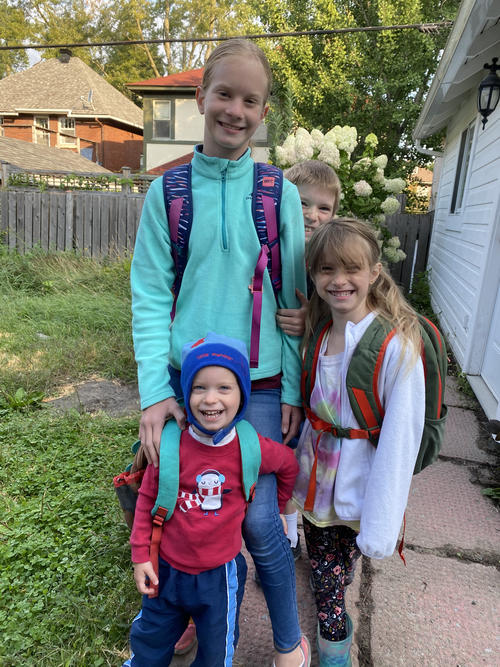 The children started back to school on September 8th. The virtual day consists of periods of synchronous learning, asynchronous learning and breaks. Elizabeth declared that we needed to make lunches "so we don't get out of practice". I've been putting snacks into lunchboxes and leaving them on the table for the kids to fetch when they are hungry or have a break, but we've been making hot lunches. Elizabeth agreed that since we are actually at home it didn't make too much sense to eat cooler lunch in a thermos that would then need washing.
We also left the house to "go to school" in the morning, complete with fake running for the bus "to keep in practice" (Michael was very confused). We've been leaving the house again after school "to come home", mostly via the local playground. Actually we haven't been super strict about the coming home - day 1 Matthew and Elizabeth decided to do each other's hair and have a spa day instead, and Thursday Matthew had horseback riding instead but Amelia and Matthew are enjoying our daily trip to the park. Elizabeth has been skyping with Erika in the mornings before school as well so this has added some artificial urgency to the getting out the door. Some of the kids have insisted on wearing backpacks to go to and from school and Amelia suggested we try having a special school door so we'll see how long THAT lasts.
Elizabeth's first day consisted only of a half hour one on one video conference with her teacher, so she spent most of the day helping us with Michael, chilling out and finishing up some of her summer tasks. We found out that she is in a class of 28 students, 10 of which are from Francojeunesse. She has two teachers, which she thinks are teaching from home. Her main teacher (Mme Danielle) was a grade 6 teacher at Francojeunesse so she knows her well. Elizabeth was pleased to discover a couple of her good friends in her class. So far I helped her with suggestions for a mathematical scavenger hunt ("find a household object representing a decimal number"). I also know she did an assignment to find errors in a paragraph and that the class is doing presentations to introduce themselves. Otherwise Elizabeth is pretty self sufficient and I'm not entirely sure what they are up to. She claims no homework so far and has been done by 2:30 pm every day.
Matthew's class has 17 students and two teachers. They started out with two google classrooms and a plethora of google meet links but luckily they seem to be refining things as they go along. By the end of the week we were down to a single classroom and a stable place to find the link. He recognized at least a couple of the other students. He claims his teachers are teaching from home. Matthew's math teacher was absent the second day as she apparently needed to get a covid test (it was negative). I'm a little unclear why that would be necessary if she's at home though. Matthew has so far done math, french and art every day. He's needed the most help so far, he's okay once he knows what to do but he has a great deal of trouble figuring out which documents to open or print and his reading level really isn't quite good enough to parse through the documents to pick out what is instruction vs what is task. We've also quickly realized that he'd benefit from a faster computer as well as a solution to allow him to view two screens at the same time so that he can follow what his teacher is showing while also doing it. On the flip side, once he knows what to do he's able to do it very quickly. He's definitely finding math far too easy. All week he was finishing his assignments quickly and then had 30-45 minutes to kill. When he finished before asynchronous time even started he was able to ask his teacher for some extra work, but otherwise he's either been playing minecraft or doing the extra assignments I am giving him. We are expecting that the vast swaths of downtime are due to the teachers evaluating the class and not wanting to start off the year in a discouraging fashion. He seems to be done by 2:30 as well.
Amelia's class has 30 students, a teacher and an ECE. Her friend Poppy is in her class, although perhaps their relationship could be more accurately described as "frenemies" than friends. The teacher spent the first week getting to know the students and asking questions like "Which school are you from?" Amelia explained carefully that she isn't going to school, she's at home and on "the line". The kindergarten class has a short class with songs and attendance first thing in the morning, then the teachers actually teach the entire rest of the day aside from breaks in small groups.
So a typical day looks like class from 8:30am to 9:00am with camera on but microphone off. Then we turn off our camera until our 15 minute "rendez vous" somewhere between 9:00 am and 10:30. Amelia then has a small project to do while listening to her classmates have their rendez vous with the teachers. Then she has a break and we've been encouraging her to go outside. During breaks we turn off the volume of the class but are otherwise staying in the Google Meet all day. At 11:10am we're back for a short class until about 11:30(ish). There's another break until 12:40pm when she has a class until 1pm. Then she has another 15 minute rendez vous sometime before 2pm and then we are done. Except on Fridays when there's apparently a short class to "finish off the week". It makes the day kind of choppy and she does need help from time to time but she's starting to get the hang of turning on and off microphones and cameras herself. I am able to do some work with her chatting in the background so for the moment we think that online kindergarten will be workable.
I did not get off on the right foot with her teacher. Her connection is extremely blocky and the audio is sometimes poor. There was also no published schedule for the rendez vous at first - we just had to listen for our name, which was tricky to do while also theoretically working. Couple these with a tendency for people to drop the first syllable of names beginning with vowels and another kid in the class called "Emelia" and you'll understand why I told the teacher that we were struggling to figure out whether she was calling on Amelia or Emelia. Teacher very condescendingly told me there was no problem because Amelia starts with an A that makes an Ah sound and Emelia starts with an E which makes an Eh sound. Let's just say I was very irritated, especially when I suggested that she distinguish by adding her last initial and the teacher agreed... but then didn't actually do so orally. Then on Friday I happened to be at the school to pick up our school supply kits and happened to run into Amelia's teacher in person. We had a lovely 20 minute chat and it was enough to completely change my initial negative impression.
I brought Elizabeth along with me because we were still missing some things the school hadn't managed to return in June - shoes and a whiteboard from Elizabeth's locker, Matthew's meds and Elizabeth's recorders. There had been a lot of back and forth while I attempted to get a time to come and get them but eventually the principal conceded that Elizabeth might come and peruse the lost and found since Elizabeth's a student and not subject to the no parents in the building rule currently in effect. In fact Mme L personally escorted Elizabeth around the extensive collection three times and they managed to return (almost) everything.
I was interested to observe in person recess while I was there. Very few kids wearing masks and mostly around necks - likely because they were outdoors and it is not mandatory for that age group. Many kids literally hugging each other in huddles of five or six, others running all over the yard. In short there was absolutely no indication of any distancing at all. I'm told that only three classes are in the yard at a time in order to allow for distancing, but in the fifteen minutes I stood there I did not observe any adult reminding children to stay apart, nor did recess look particularly different than usual (possibly a bit more handsy actually). I'm sure there was adult supervision but I didn't see any adults at all. There was also no attempt to keep kids within their classroom cohort. The school had told us that play structures were closed by ministry regulation, but the students were playing on them.
I tend to agree with the point of view that one cannot expect kids at school to distance. I also don't agree with play structures being closed at school when they are open everywhere else, but it struck me that the various regulations at school at the moment are rather more on the security theatre side than actual health precaution. If they are obviously not following what they say they are doing outside when parents can easily see what's going on, how seriously are they taking their own rules when away from view? Anyway, it rather reinforced our decision not to return.
You might also like
- Homeschool wk may 4-may 8
(0.547433)
- Homeschool wk may 11-15
(0.52989)
- Virtual school: Week 2
(0.522005)
- The Tree Story
(0.519826)
- Homeschool wk may 25-29
(0.518686)
All