September 18, 2020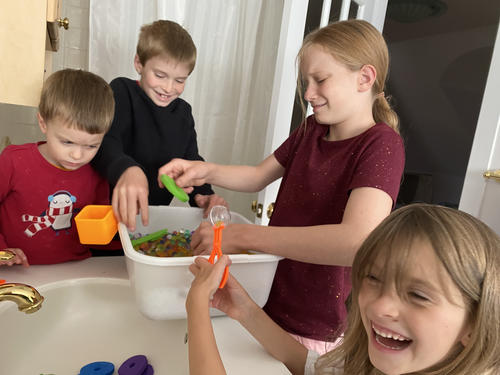 I mentioned that we decided that Matthew needed a faster computer, so over the weekend Brendan put one together from spare parts. The kids were very interested and Elizabeth couldn't understand why he needed "three computers". I think they might actually understand the difference between a computer and a monitor finally now. Matthew is very fond of "his" computer, and is especially happy about being able to print things all by himself. We might need to invest in a toner company.
We have a new desk setup as well. The continuous surface works much better. He stores all his materials in the chest of drawers. We've experimented with sitting on a yoga ball to see if it helps with the wiggles. This was a failure as an actual seat as it increases rather than decreases wiggling, but he does like to roll about on the ball during breaks and that might be helpful.
We've continued to "go to school" every morning. Elizabeth goes earlier by herself because she has a standing date with Erika at 8:15am. The rest of us are not organized (or fast enough) to get out of the house and back by then. It's about as much as we can do to be back in time for the beginning of class! There's a construction site on our route which some kids find very interesting (Matthew, Amelia) and others too scary to use our own feet to pass (Michael).
We did violin in person again this week. We tried to connect to classes on the way out so as to miss less but the connection to the meets wasn't working for some reason. Matthew worked on some assignments during Elizabeth's lesson so kept up to date. I did manage to connect Elizabeth on the way back, so she got caught up some in the car, though she flatly refused to turn on her camera or microphone in the car and used text only. Turns out she missed English class only, so no great loss. We're not sure they even noticed Matthew left.
Amelia's teachers introduced music to their routine including a tambourine. Turns out this sounds exactly like static and it's impossible to concentrate on anything while she's doing this. Between the music and Michael becoming increasingly disruptive during "rendezvous" time the decision was made mid-week to move Amelia to the basement and to try setting up more formal kindergarten stations. This has worked better for work and it's more interesting for the younger two. I experimented with different stations every day aside from a reading corner but next week I'll probably keep the same stations all week. We've done a sensory bucket with water beads, blocks, puzzles, cars. Day one I made an obstacle course with ball pit and tunnels for gross motor. On Friday I set up the popup tent with stuffies and sleeping bags to play camping. Elizabeth isn't a huge fan of the stations because sometimes they haven't been cleaned up before she wants to do her extracurriculars downstairs, but she did help me stage the playmobile sets. Amelia also has her little desk with colouring things, scissors and glue.
I've carried on with pre-making lunches, but we're pretty lax about "coming home" - often the kids are busy doing other things and with the rise of covid in Ottawa we've started reducing our park time. Michael has insisted on coming in the "school door" more often than not, but we're discouraging this because we won't want to use the side door during the winter.
Other new things this week: Amelia's teachers started playing O Canada as part of their morning routine. There's also a third teacher. The second teacher has been designed official attendance taker and is therefore seen a little more often than the first week but still mostly doesn't seem to do anything visible to us and I've never seen the third teacher do anything at all. It's a bit weird.
Mathew's teacher did just dance for phys ed. Elizabeth was jealous. We haven't noticed Amelia's teachers trying to teach phys ed unless you count them trying to get the kids to dance (Spoiler: most of them don't).
Matthew's class continues to be too easy, and he continues to need the most help. He does seem to need less than last week, but I can't quite decide if the level of help he needs is normal or if he could use more reading support. There's been very little emphasis on practicing reading so far. Both Matthew and Elizabeth are showing noticeable improvement in their computer skills, and neither have any homework after school ends. Elizabeth is consistently done between 2 and 2:30. Matthew's teacher always teaches right until the official end time at 3pm, but it's mostly just going over the math assignment so I'm contemplating letting him skip it and do other things.
One interesting development - apparently one of his classmates is physically in Africa somewhere 6 hours ahead.
You might also like
- Back to (virtual) school
(0.522005)
- Homeschool wk may 11-15
(0.512516)
- Homeschool wk may 4-may 8
(0.492638)
- Child Labour
(0.490062)
- Sewing with kids
(0.484946)
All