September 18, 2020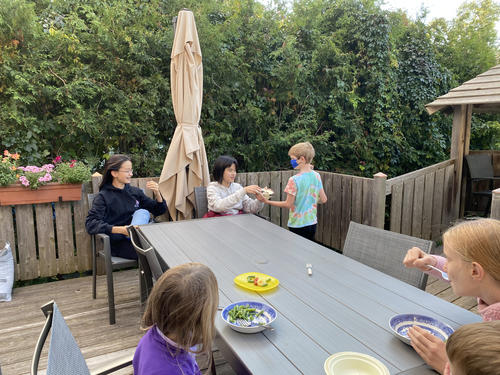 Karate has been doing this thing where they give timbits to all the kids who are physically there while Matthew and the other virtual kids get to watch.
Matthew wondered if perhaps we could make our own timbits at home, and I not only agreed that we could but that he and I could make them together - without any other sibling assistance.
The girls were off with Daddy to locate larger ski boots, so he figured it would be a pretty good time. Michael seemed amenable to mostly amusing himself so we declared it a timbit day. We'd mixed together most of the ingredients the night before and very shortly we were frying small batches of chocolate and vanilla gluten free donut holes. Matthew wanted more chocolate than vanilla, so we made a half recipe of the vanilla.
The vanilla ones got covered in cinnamon sugar, while some of the chocolate ones were dipped in chocolate, dipped in chocolate and covered in sprinkles, or covered in icing sugar. I emailed Erika to ask whether she and Maria might be interested in sampling these delicacies from "MatTims Restaurant" (as Elizabeth immediately dubbed it) and the girls showed up twenty minutes later to help us try them out.
Matthew is already thinking he'd like to try making jelly donuts next time.
You might also like
- Matthew's first skating class
(0.368932)
- Strike Day
(0.366279)
- Virtual School: Week 37
(0.365163)
- Virtual Piano Recital
(0.364155)
- St Nicholas Day
(0.363844)
All