September 25, 2020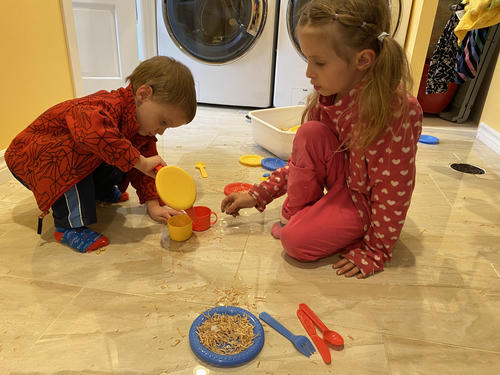 We are starting to get into a rhythm of school I think.

Kindergarten stations this week: Fall sensory bucket, play kitchen, reading, paper dolls, math games. Daddy was not a fan of the "kitty litter". Amelia's class had a story about a mouse this week and they wrote mail to special people. She made an envelope and gave it to Matthew. Matthew returned the favour by drawing things on the computer for his sisters (and Erika). Both Amelia and Matthew worked on sorting things alphabetically, which I found amusing. Amelia only had to sort by the first letter though. Amelia's class spent an inordinate amount of time discussing unicorns (they are following the interests of the class). Apparently Amelia's small group owns quite a herd of unicorns. Amelia knows a surprising amount of unicorn related vocabulary and was heard educating the teacher as to the difference between a unicorn and a Pegasus.
On Wednesday I took the younger three to a nearby park to meet up with a couple of Amelia's classmates "in real life". It was fun but hairy - the park was very, very busy. Our kids and classmates mostly kept away from the other kids and we didn't do too badly at the distance. Then a completely random kid literally grabbed Michael by the hand in order to "help him" while Michael was minding his own business climbing the play structure. I was not amused but was proud I didn't completely lose my temper. We shortly thereafter moved to a completely different (quieter area), before leaving altogether.
Elizabeth and Erika went for a socially distanced bike ride; the perks of virtual and pandemic school means that they are both free earlier in the day and can do stuff between school and activities.
Matthew is still often at loose ends during much of his class, especially in math. We aren't sure whether or not this is because the class is in a review period. At the same time, he is struggling quite a bit with the reading requirements. I *think* his reading level is better than Elizabeth's was at the same age but he's definitely prone to trying to read, finding it hard or too many unknown words and then just throwing up his hands in the air and goofing off for the rest of the period. I've got a teacher interview lined up with the math/science teacher Monday morning which should give us a better idea of where things are at.
Matthew was supposed to have a supply teacher Friday afternoon, but there's a teacher shortage generally so no one showed up. Matthew played prodigy for a bit while refreshing the meet screen periodically. We eventually decided no one was coming after about half an hour.
I still have no idea what Elizabeth is doing but she seems happy. I'm not getting alarmed emails from teachers so for the moment while we're figuring out the things I know are problems I'm trusting that the school is actually teaching her something.
Friday was also Franco Ontario Day, so we wore green and white and had green and white snacks and lunch.
You might also like
- Virtual school: Week 2
(0.477803)
- Child Labour
(0.471503)
- Homeschool wk apr 27-may 1
(0.467651)
- Virtual School: Week 20
(0.461921)
- Virtual School: Week 19
(0.461367)
All