October 2, 2020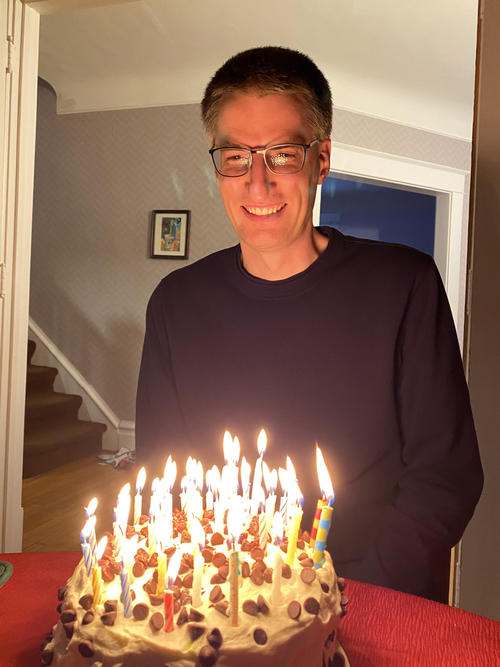 We celebrated Brendan's birthday with candles at every meal, including the whole 42 all on one cake. The heat was so intense that in the time it took to bring it from the kitchen to table the cream and chocolate chips on top melted!
There were many cards. Xander drew some fireworks. Not to be outdone, Isabelle made a card with detachable fireworks and a cake! They are all into 3D card effects right now - Theo's blueberry is particularly cute. Michael painted the outside of his card and then absolutely refused to put anything in the inside. Matthew made his on the computer. It's DJ for "Daddy J", in case anyone is wondering. He made a race track with a beach and an island. Amelia drew many unicorns and made a paper airplane as her gift (the number is its call sign?) Elizabeth didn't like her initial card so made about six different variants as is her current modus operandi. She spent hours working on them, especially the water colour.
We had Grandma J over for cake and lasagna. Sunnyside, Janice and Teevens all joined remotely to sing Happy Birthday and open presents. Brendan said it was a very peaceful birthday.
You might also like
- Incredibles 2
(0.358053)
- Happy Birthday
(0.356021)
- Virtual School: Week 18
(0.355769)
- Rainbow party
(0.352778)
- Christmas
(0.352236)
All