September 4, 2020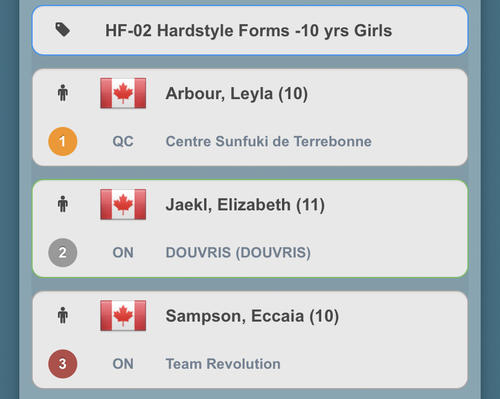 The WKC World Championships were supposed to be in Madrid Spain this year and Elizabeth had a very good shot at making the Canadian Team. She was extremely anxious about the concept as she didn't think she was ready for the worlds. We had pretty much decided that if she qualified we were going to go and we would deal with her wrath if need be as one simply does not get the opportunity to do such things every day. We had gone so far as looking at hotel information and had nearly booked a room when COVID-19 hit and all that got put on hold. As it wore on it became apparent that it wasn't just going to be delayed but would simply not be happening this year.
Instead they decided to allow people to submit their best effort for each division in video form. This allowed for everyone to turn in really good performances and in that respect probably actually meant that it was tougher than normal as they didn't have to worry about the nerves of actually competing on the world stage. Also without the normal country qualifiers more people got to submit their best effort than would normally have actually made it to the worlds. So overall it was probably a tougher competition than it might otherwise have been.
Elizabeth has been working very hard on her traditional and creative weapon katas and decided to compete in weapons despite having limited practice doing so. She ended up submitting entries for 4 divisions. After the judges had reviewed everything she placed, 6th in creative weapons, 6th in traditional weapons, 4th in classical forms and 2nd in hard style forms (all for girls 10 and under by date of birth Jan 1). Team Canada did extremely well with many of her teammates placing in their various divisions and amusingly enough actually sweeping the girls 10 and under hard style forms.
It is hard to believe that just 3 years ago Elizabeth was competing in her first real tournament. Elizabeth seemed a little surprised by how well she had placed, but the concept of being 2nd in the world at something did put a little smirk on her face. Erika was a little frightened to learn of her cousin's achievement, but also proud. Needless to say her parents are beyond proud of her.
You might also like
- WKC Provincials
(0.471751)
- WKC Nationals
(0.459459)
- WKC World Championships 2022
(0.452763)
- Plowden 2021
(0.447471)
- WKC virtual world championships
(0.438889)
All