October 6, 2020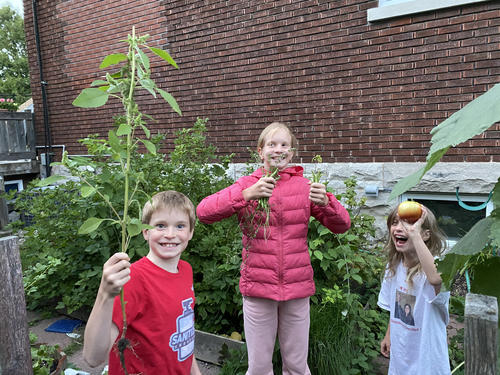 We mostly left the garden up to the kids this year. I did give some guidance on what was planted but they
Matthew planted tomatoes and carrots, Elizabeth planted many herbs, sunflowers, a pepper and beans. Amelia planted beans and two kinds of tomatoes, and Michael planted potatoes. Actually originally Michael helped with the pumpkins, but I realized early on that I didn't want him watering the pumpkins because they don't really like getting their leaves wet. The pumpkins were a disappointment as we were plagued with cucumber beetles. We ended up with only a couple pumpkins, both very small and one of whom started rotting before it was ripe.
The larger tomatoes, herbs and pepper didn't do that well either - there was too much shade from the sunflowers and the beans. In retrospect Elizabeth says she should have planted the sunflowers more strategically. The flowers gave her great joy and certainly did well. She was disappointed to discover that the squirrels and birds ate ALL her seeds by the time she got around to harvesting!
Amelia's baby tomatoes were very prolific, but prone to splitting this year. So she mostly refused to pick them. She was more interested in the beans. I don't really have a good sense of how our crop did - the kids certainly ate many meals worth raw straight from the garden, and we managed to grab quite a few to eat at dinner. More diligent picking would have improved our crop, but the overall yield was quite good.
Michael enjoyed harvesting the potatoes (I actually let everyone help) and we got about the expected amount.
Matthew's garden probably did the best of the lot - he planted six tomatoes and about five times as many carrots as I would have ever imagined. He was thrilled with his harvest. Next year he says he might agree to do even more thinning but he kind of liked his weird shaped carrots!
Overall the kids spent more time in the garden than usual and worked pretty diligently to look after it, so I think the experiment can be called a success.
You might also like
- Garden update
(0.441472)
- Garden
(0.436941)
- Garden
(0.432896)
- Harvest
(0.431579)
- Virtual School: Week 28
(0.416008)
All