October 9, 2020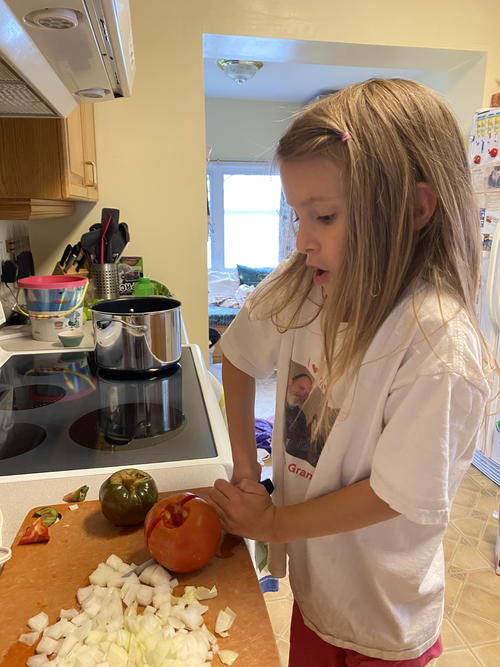 This week's kindergarten stations: oil and food colouring leaf sensory bag, playdough, obstacle course, shopkins, play kitchen, books.
I went to the library this week and swapped out most of our books, which was very exciting! Not that they are really reading all the new books as Michael is mostly demanding the same book about a fox and a rabbit and Matthew and Amelia are obsessed with Asterix and Obelix books at the moment.
Amelia's class had to find vegetables and then make them into soup. They did a lot of story telling this week, especially with playdough. Amelia was particularly amused by the role playing for Goldilocks.
Matthew's class is making "land art" outdoors. Elizabeth is making a lot of turkey and spooky art for Matthew who has demanded she help him produce decorations so that we can "properly" decorate our house for Thanksgiving and Halloween. In addition to land art, Matthew also worked on the difference between masculin and feminin, and proper punctuation placement. He likes doing it on the computer because then if he gets it wrong the computer will tell him. So his tech skills are improving, if not his french... In math they had an independent evaluation. He said it was easy. I did get summoned to help him with the reading of one part - he had read "order" as "orange", which did make it confusing. I decided that telling him the word was allowed but otherwise insisted he complete it without any assistance. I'm super curious to know how he did.
Elizabeth's class is doing a new thing now where they periodically get put into teams of 3-5 kids and they have ten minutes in a private breakout room to get to know each other. She says this is instead of the time they would get to know each other at recess if they were in person. Apparently this was fun.
We got to have virtual parent teacher interviews this week. Apparently the CEPEO consists mostly of only children, or two child families with two parents. Said parents also apparently don't work or can easily take time off because all of the interviews ran simultaneously from 4-5pm. They started out with a lovely video introducing the principal and vice-principals of the virtual school and explaining how virtual school runs. It was pretty well done, but about five weeks too late. Hopefully they post this online somewhere for parents who are just coming into the virtual system, but it was a complete waste of time for the rest of us, aside from being appreciated to put a face to the name.
Since Brendan and I couldn't be in two places at once even virtually, we opted to skip Amelia's presentation. I've got a meeting with her teacher next week instead. We were interested to note right off the bat that Elizabeth's teachers are clearly more comfortable with technology, providing us with a direct link to the PAVE video whereas Matthew's teachers turned their camera around and filmed their screen. Matthew frequently comments he can't see what his teacher is showing - if she doesn't know how to share her screen directly that would probably explain some of that. Elizabeth's teachers also opted to do their presentation together. Brendan says they clearly are very comfortable working together and great with technology. Matthew's teachers seem to work a bit more independently and opted to run their presentations separately. His french teacher went way overtime, explaining topics like how asynchronous time works. I thought this was very odd - five weeks in I think everyone understands the basic structure of the classes. Unlike traditional school we have a really clear window into the classroom.
You might also like
- Virtual school: Week 4
(0.483216)
- Back to (virtual) school
(0.478015)
- Virtual school: Week 2
(0.470416)
- Homeschool wk apr 20-24
(0.466176)
- Homeschool wk may 11-15
(0.462737)
All