October 11, 2020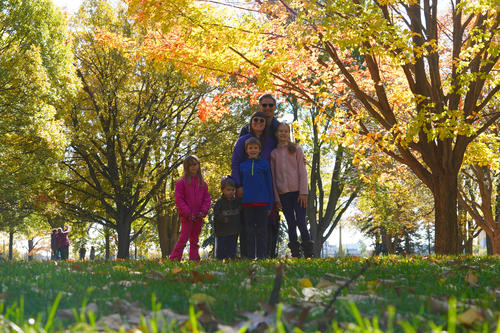 Thanksgiving was a little different this year, but we still had turkey and gathered as a family both online and in person (in a limited fashion).
We decided an outdoor Thanksgiving was an acceptable risk to take, especially since we believe that Christmas will likely need to be entirely virtual. Also we have not seen Uncle Mark in quite a long time as he is not a fan of cameras.
Some of the precautions we took:
We prepared our food using masks.
We ate outdoors.
Each household was seated at a physically separate table at least 2m apart. (Margaret is bubbling with us, so we consider her part of our household).
We had "waiters" bring food to our visitors while wearing masks.
Other than the washroom, no visitors came into our house.
We requested visitors use the washroom prior to coming, and we disinfected our washroom in the basement just in case. We did have one person use the washroom, entering from the side door to minimize time in the house. Afterwards we left the washroom for a few hours and then re-disinfected it.
Most of our guests had limited contacts (for instance, we do not attend school or work in person)
Uncle Chris and Maria stayed at Sunnyside in order to enjoy the warmth and lack of turkey. Uncle Brendan and Michael also ate indoors, deciding that it was really too cold to be outdoors, which meant that we were well under the 25 person gathering limit.
Uncle Chris made a pumpkin pie, Auntie Yukiko made a coleslaw and beans, Margaret provided lentils, the stuffed GF turkey and sweet potato, and I made a GF pumpkin pie, some sugar free tarts, gravy and a root vegetable medley. The turkey was supposed to take 5 hours but even though we took an hour off to adjust for our oven it was done by 11:30am. My oven cooks so quickly! I just turned it off once it reached 180F and hoped for the best. In the end it was still hot and not overcooked.
Our immediate family went for our traditional Thanksgiving walk to check out the leaves at Commissioner's park before lunch, which is probably why I totally forgot to make cranberry sauce!
At dinner we zoomed with the rest of the family. I had worried that our guests would not still be at our house by our original zoom of 2pm thinking that at 10C or less we might eat and then flee. But predictably we were running late and only just starting to eat main course at 1:30pm. It was nice to eat together. There were an additional 14 people on zoom (Teevens crew, Auntie Janice, Auntie Heather, the indoor eaters from Clemow and Sunnyside, Auntie Mary and Grandma and Grandpa H) and we chatted until nearly time for our Sunday school in the evening.
Overall we are thankful for continued good health, for a good start to the school year and all the blessings that God has given us this year.
You might also like
- Thanksgiving
(0.441475)
- Social Distancing: Day 20
(0.426067)
- Social Bubbles: Day 89
(0.418152)
- Virtual school: Week 5
(0.416866)
- Old Fashioned Week
(0.414179)
All