November 1, 2020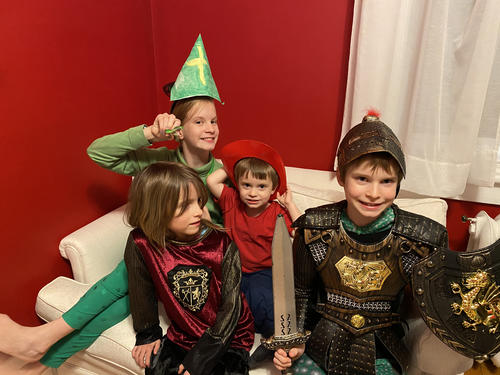 It was All Saints Sunday!
As usual, Matthew was St George. It's the only saint he's agreed to be since we started doing parades in 2016. He wanted Michael to be his dragon on the grounds that a younger sibling has always been his sidekick, but Michael wanted to wear a firefighter hat so Michael was St Florian.
Elizabeth was St Patrick (complete with rubber snake and a zoom beard) and Amelia was Joan of Arc (she wanted to wear "armor" and wave a sword).
I dressed up as St Mary. Since we aren't physically going to church and the parade couldn't really happen anyway, we did a virtual parade in Sunday school with a pretend march and all the kids dressed up. It wasn't the same but the kids enjoyed marching up and down in their rooms so I feel it was successful.
You might also like
- All Saints Day
(0.345083)
- Spring Piano Recital
(0.33122)
- Twelfth night
(0.330855)
- First Communion
(0.329431)
- Cousins move in
(0.328889)
All