October 30, 2020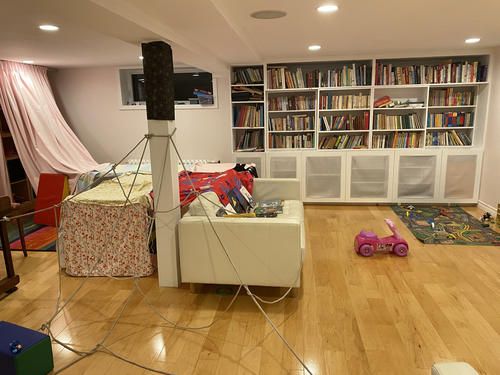 We started the week with a zoom with cousins on Sunday. Matthew and Xander chatted about Minecraft.
We're getting ready for Halloween, so for kindergarten we setup a "spooky" room by special request. Brendan kept bonking his head on the "teeth" down on the door posts so these didn't stay up terribly long. There was a haunted tunnel with "spider web", fake spider and ghosts, books, a rope spider web, an oobleck with eyes sensory bucket and cars. Amelia's class were reading and drawing about cars this week. They happened to be reading Michael's favourite book all about cars in a traffic jam. Amelia was very excited because the teachers spent several days getting the class to guess why they were in a traffic jam and she knew the answer. She was very restrained, when asked to speculate she said "I can't tell you because I have the book". Then she read parts of the book to her classmates over Google Meet because the teacher can't easily share presentations on their Chromebooks without setting it up in advance; it takes too long(!) Amelia's certainly doing a lot of chatting during class.
Elizabeth has received permission to skip gym after she complained that exercising in front of the computer was a waste of her time. She was a little taken aback that these "easy" exercises that do absolutely nothing for her are so difficult for many of her classmates that they needed a break and water afterwards. In our board, it turns out that virtual teachers aren't allowed to suggest to the students that they go off camera at any time for liability reasons. They can't even ask the kids to go out into the backyard to collect leaves. I think this is dumb because when we enrolled in virtual school it was made quite clear that an adult was expected to be within earshot at all times. So I feel like they should be allowed to say: go and do gym outside if you have permission from your parents. Anyway, Elizabeth's teacher says she can practice other sports instead in a different Google Meet.
Matthew's class did some art with leaves. Otherwise he did his work without enthusiasm. He says "Teachers don't respect kids. They think they forget everything they learn and teach the same thing over and over again. I don't know why we can't learn more new stuff." Our lamp post that got knocked down last winter was replaced one day and aside from the two sprinklings of snow we received this was by far the most exciting part of his week.
You might also like
- Homeschool wk may 19-22
(0.442502)
- Virtual school: Week 4
(0.441299)
- Virtual school: Week 2
(0.437256)
- Virtual school: Week 5
(0.428452)
- Orchestre
(0.425297)
All