November 6, 2020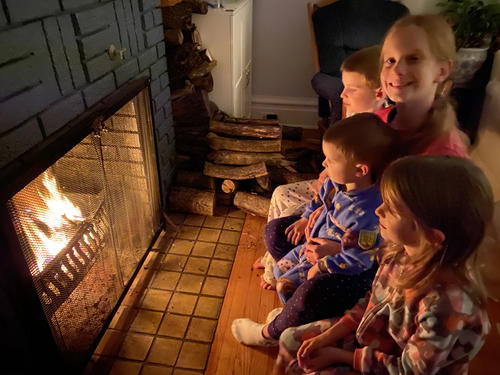 We were all psyched up for Guy Fawkes (and the official start of fireplace season in our house) on November 5th, but by the time we were organized enough for a fire the younger two were already ready for bed.
I might have delayed bedtime, except that it was very warm outside. When the outside temperature is above zero, we often get smoke sucked back down the other chimney into the red room. Since Matthew is using the red room as his schoolroom these days, we decided that it would be prudent to delay until Friday evening for our fire.
We had a great time sitting in front of the fire. Matthew is thinking that one of these years we should have a real bonfire.
You might also like
- First meal outside of the season!
(0.326772)
- Sleepover
(0.325658)
- River Oak
(0.323529)
- Christmas Day
(0.320856)
- First day of Maternelle
(0.315873)
All