October 31, 2020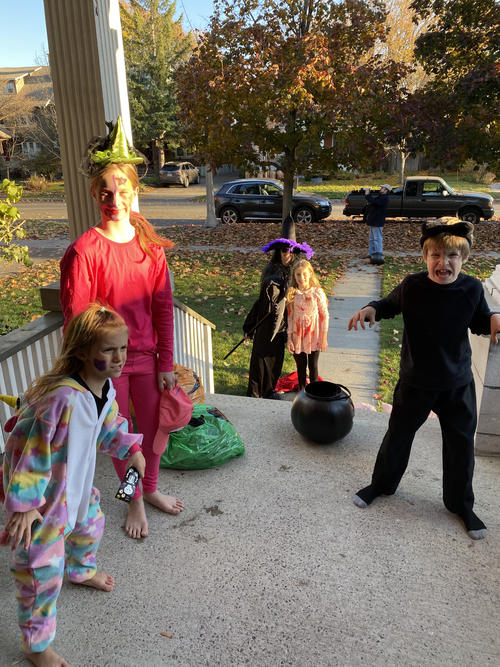 For Halloween, I asked the kids if they might like to be something not too scary and maybe even cute. So Elizabeth was a flamingo, Matthew was a black panther (the animal, not the superhero), Amelia was a unicorn and Michael was a dinosaur. Of course, by the time Halloween actually rolled around Elizabeth was kind of regretting not being something like a zombie. So she decided to be a witch's flamingo or something, with half her face made up to be "frightening" and the other half to be sweet and gentle. The overall effect was not exactly cute, but I guess it was an attempt to compromise.
As a child we did not celebrate Halloween, so as Halloween approached and Ottawa Public Health recommended children did not go door to door my first inclination was to just skip the whole thing.
My children were not on board with this idea and reminded me of how my mother once taught us how to trick or treat. She dressed up as a different person at each door of our house, and we said "Trick or Treat!" and got some candy. Mom actually also forced us to soap the patio door window in lieu of candy. True story! I vaguely remember her telling us about people throwing eggs and toilet papering trees but for some reason she didn't insist we try those things too. Anyway, so that's why my kids trick or treated at every door of our house this Halloween.
We also did a candy exchange with our neighbours. Everyone put out candy on their front steps (we hid ours in the backyard) and we all went around to each other's houses one group at a time in the morning. It was nice to trick or treat when the kids WEREN'T super tired. Then the kids ate candy.
We had our winter tires put on at home by a roving service, and Grandma J came over to have hers done as well. She stayed for dressing up and Halloween themed supper. She also went through the kids "scary haunted house" that they invented. It was half Douvris half Glebe Community Center Halloween party inspired. Amelia and Michael enjoyed it enough to want to go through it a second time, but the second time ended with Michael in hysterics after Matthew was just a little bit TOO intense with a spider. Then the kids ate more candy.
At 5pm we went out onto our front lawns to dance in our costumes with our neighbours. Rafale came over to trick or treat for a hotdog which was pretty fun. Some of the boys played distanced frisbee, to Elizabeth's great consternation. Then the kids ate even more candy.
We've been trading candy for toys after Halloween with the so-called "switch witch" since Elizabeth demanded we start in 2016. Usually we give them a few evenings to consume some of the candy, but with unrestricted access to candy (since we aren't going anywhere) and having had to be more organized (since acquiring things now tends to require advance planning) we declared an end to the candy gorging on Halloween night for the first time ever. Elizabeth received paints, Amelia received glitter glue and the boys both received Lego.
Us parental types and Elizabeth ended the evening with a Halloween movie - the modern Ghost Busters.
You might also like
- Music Day
(0.430947)
- Halloween
(0.424555)
- Halloween
(0.42449)
- London
(0.423529)
- Virtual School: Week 35
(0.422558)
All