November 6, 2020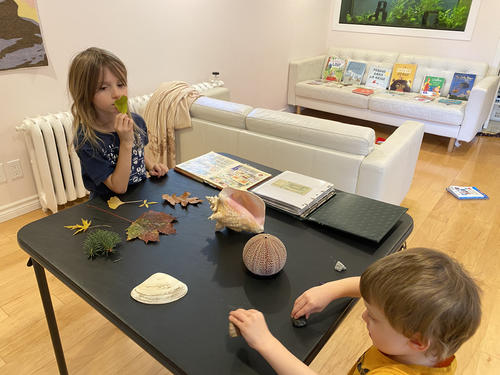 First big snowfall this week. Our morning walk took MUCH longer than usual because they would keep flopping down to make snow angels. Amelia and Matthew were having too much fun to go in for school. So Amelia did her class outside and I let Matthew skip the first period. Amusingly many of the kids this week have discovered the new Google Meet backgrounds so based on a couple of comments I do not think the teachers realized that Amelia was actually outside.
Instead of school Matthew did his reading with me and played. When we came in, he hadn't obviously missed anything and he caught up with his asynchronous work before the next segment started. This is a bit of a theme. The amount of time where nothing substantive happens is mind boggling. Teacher will routinely spend 30 minutes finding stuff and checking if things are submitted and and responding to student questions etc etc So Matthew tends to check out mentally and do his work; might as well get useful stuff done. Then the talking is distracting so he turns the sound off. Then he gets stuck so he fetches me. I teach the lesson in 5 min. He finishes in another 5. Then teacher teaches lesson but he just did it so he turns off camera and does something else. This of course completely defeats the purpose of not homeschooling since he is then not listening to or speaking french. His teacher has started doing small group reading with two or three kids at a time, but even though his class is under twenty, it still takes more than a week to rotate through.
If I were not reading with him, he would be reading less than 30 minutes a week. Most of the work is done onscreen, and the one daily writing assignment is not assessed so Matthew frequently hasn't been doing it. Math is also a problem. Matthew's frustrated because they appear to be doing constant review. He's clearly ahead of the rest of the class but he's completed the assigned extra work. So we are doing our own thing about 90% of the time after doing the busy work.
But as soon as I think ok, this is dumb I should pull him out altogether, we have a day where teacher is actually teaching something useful and he even thinks about participating. For example - this week in Science the kids got to present their pets. Matthew presented Gabriel the turtle and had a wonderful time explaining what turtles are like. He also enjoys art class very much. In any case, there's a conversation with his teachers that is needed.

Other than our "outdoor classroom", kindergarten this week really only had three stations - a very large house out of fort magic complete with mini kitchen, bedrooms and (lego for food?), reading nook, and "the museum". The plan for the week talked about going to museums and traveling so we created our own museum and all week Amelia and Michael brought precious things to be admired on our table. Amelia also spent much time using the glitter glue the switch witch brought. Michael has taken to making and playing in little nests in his bed during Amelia's "rendez-vous". Unlike grade 2, I'd say virtual kindergarten continues to go well.
Grade 6 is doing some kind of space theme in science. Elizabeth was disappointed that most of the snow melted before she could do her private (outdoor) bo class with Cody, but there were still some tiny patches. She says school is "fine".
You might also like
- Virtual School: Week 31
(0.497477)
- Virtual school: Week 4
(0.463704)
- Virtual school: Week 2
(0.449688)
- Virtual school: Week 5
(0.441654)
- Virtual School: Week 20
(0.441311)
All