November 13, 2020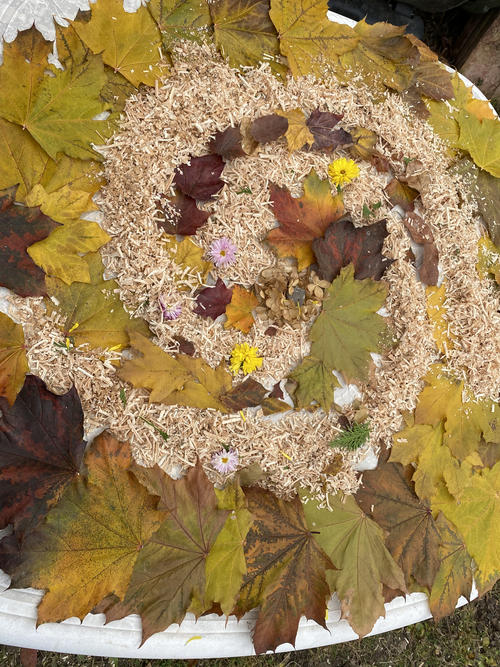 We're really busy at work and it's time to produce our annual family calendars, so I didn't put much effort into changing kindergarten learning stations this week - large "house" out of fort magic and sheets stayed up, but kids gave it a makeover with different animals claiming certain "rooms". We had the costumes out too, and a certain amount of dress-up play ensued.
There was a game with "food" and also something where part of it became a prison for a wild animal. Michael was the wild animal.
Amelia's class had to make puppets out of old socks. We have old socks in abundance so Matthew decided he wanted to make one too. Amelia's class participated in a virtual field trip to hear an author read a book - except they had technical difficulties and there was no sound. Anyway, the theme of the week is geography, so Amelia played with a map of Canada puzzle and we read books from around the world. I tried to interest Amelia in a tetris-like puzzle but the pieces mostly were used as boomerangs. Sigh.
Lots of playing outside - Amelia is very into riding her bike, so Michael has renewed his interest in the balance bike and actually making progress. We went to the park! When we arrived it was quiet but it wasn't long before we had to flee the millions of non-social distancing kids. One mother was telling me all about how their whole household was ill, while said child was chasing Matthew to the point he decided to climb up somewhere inaccessible for some peace. Needless to say we won't be back at the park that late in the day again for a while.
Big news this week is that Elizabeth got to go back to karate in person. Sensei Cody has been doing private lessons with her once a week for over a year and we've decided recently to add a second lesson a week. We found out that she had the opportunity to come in person to Barrhaven and be the only person in the dojo other than her instructor. We also really appreciate that everyone wears masks. We figured we could take advantage of Ottawa's current declining Rt values.
She's quite prepared to practice her bo outdoors all winter if she needs to, but she's begun working on a musical routine and it IS somewhat challenging to work on timing and music over zoom. She's been a really good sport about the extra difficulty of zoom lessons but it was obvious she really enjoyed her in person lesson. I was also impressed with her attitude. "I hope the numbers mean I can keep going for a little while", she said. "But if I can't, at least we had some time to work on the music part."
You might also like
- Virtual school: Week 4
(0.460163)
- Virtual school: Week 5
(0.43948)
- Virtual school: Week 2
(0.4375)
- Homeschool wk apr 20-24
(0.43617)
- Music Day
(0.435673)
All