November 4, 2020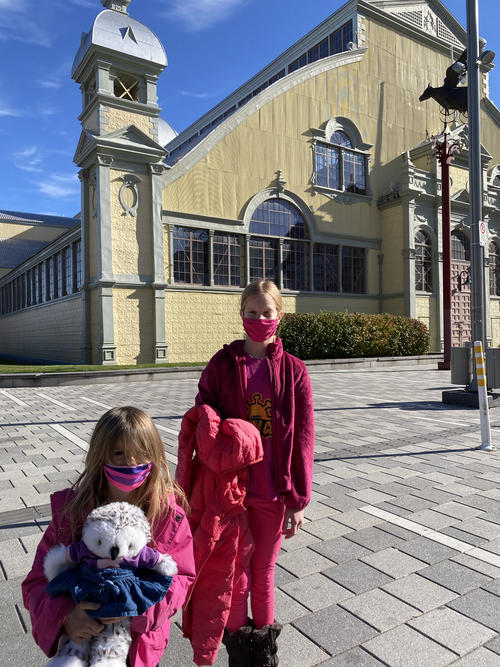 We usually get our flu shots with Ottawa Public Health as they are the only place available to do the entire family at once if you have kids under five and don't all have the same family doctor. This year, OPH was not offering their usual family appointments but they moved all the public clinics to an appointment based only system so it was pretty similar.
They should have reminded us to fill out our forms in advance at home, but otherwise we were extremely impressed with how organized the entire thing was.
Our location was at Landsdowne in the Horticulture building. We did not tell the kids it was flu shot day until immediately before. This definitely was the right move for Matthew, but Amelia was uncharacteristically nervous. I was nervous too, because Matthew is getting too strong to hold for a shot but his nurse happened to have CHEO experience and managed to talk him through getting the shot without any screaming, hiding under tables or even too much visible anxiety. In short, it was his best shot ever and we were profoundly grateful.
Unfortunately, my own nurse was rather inexperienced and managed to inject my shot much too high. I knew it was wrong immediately as there was intense pain shooting down my arm and my middle finger went numb. In fact, I'm pretty certain she hit a nerve and she definitely injected into my shoulder joint. Long story short I now have vaccination induced bursitis and was unable to use my arm for 24 hours or feel my middle finger for several days. I am profoundly grateful that I was the one affected and not one of the kids. Of course, this is very unusual and I will definitely still be getting my vaccinations. But as recommended by the Ottawa Public Health head nurse, in the future I will be talking to anyone providing me or my children a vaccination to ask them how they figure out where to inject. Similar to marking your body parts before surgery or running a basic checklist, I don't see this as questioning the competence of my shot provider but more as a safeguard to ensure they are focused on proper placement and less likely to make such a painful error. I highly recommend that everyone else do the same.
Addendum: as of Nov 22, my arm still aches on and off and I don't have full sensation in my finger but it's improved quite a bit.
You might also like
- Orchestre
(0.420601)
- Michael Gabriel
(0.411321)
- Healthy Girl
(0.408451)
- London
(0.407905)
- The Big Clock
(0.407751)
All