December 11, 2020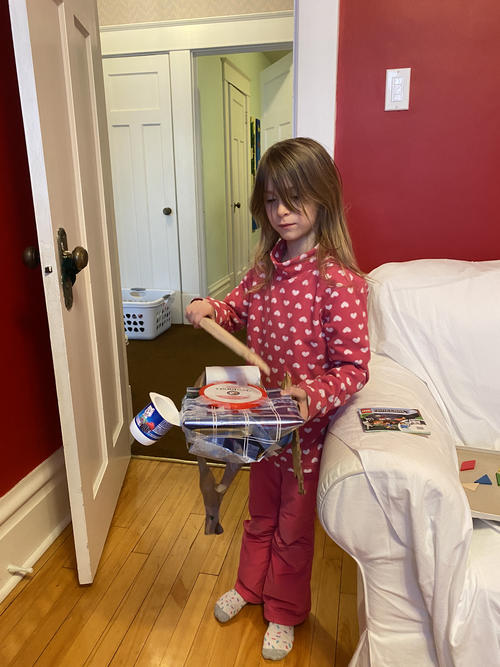 Amelia's class is learning about music this week. They watched a youtube video about the Junkyard symphony and then welcomed one of the musicians (Jonny) and his robot to their class! All the kids also brought instruments to class. Amelia brought her piano. Then they talked about what kind of instruments they were and classified some pictures instruments by type (eg percussion, string, wind etc). They had to invent a rhythm using at least two sounds and write it down. Amelia wrote hers starting at the bottom of the paper and it ended up not being readable from left to right. The teacher found this unacceptable and she and Amelia had a bun fight over correct music notation during which Amelia was rather rude. I was not super happy with either of them.
Amelia had to convert recycling into garbage... erm I mean make a drum out of recycling lying around the house. Cleverly I managed to forget this and there was a minor crisis when I realized we had neglected to save recycling for crafting purposes. Amelia's teacher apparently told her she has to keep the results "forever". We've compromised on Christmas break.
Kindergarten stations this week: puppets, puppet theatre out of fort magic, books
Matthew's working on making various kinds of habitats for bees in the forest this week and playing lots of "foot". At virtual school his morning teacher is off for two days, so he had no morning teacher on Monday and two supply teachers on Tuesday. They are writing invitations and apparently redoing assignments they did earlier this year. We've started doing our own thing with him more, particularly for math. Matthew's got some new materials to help him learn conjugaisons and multiplication facts from a French site called Multimalin. So far he seems to find it amusing!
It snowed, so we got to go sledding. Matthew decided he wanted to try "surfing". Elizabeth participated in her school's virtual talent show, demonstrating her magic tricks.
There was great excitement this week around the latest SpaceX launch for the moon/mars prototype rocket. The first attempt failed with 1.3s to go. The second flew 12.5 km and then exploded when it landed. You can watch the full video here.
You might also like
- Virtual School: Week 20
(0.421227)
- Virtual school: Week 2
(0.416296)
- Virtual School: Week 12
(0.415499)
- Virtual School: Week 13
(0.411093)
- Summer school wk june 29-jul 3
(0.410023)
All