December 18, 2020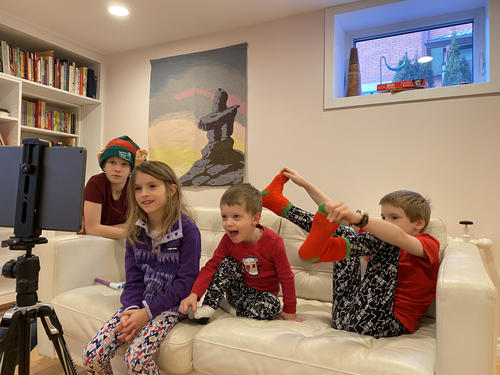 It's the last week of school before Christmas break!
For kindergarten the theme of the week was "forts". Elizabeth built the biggest fort ever. Amelia decided she needed a fort all to herself and made a very cozy little nook by the radiator. Unfortunately this needed to be dismantled every evening for activities, but on the plus side this gave Amelia the opportunity to build many forts all week. Her class continued to do a music unit, with a french Canadian folklorist coming to visit virtually. I got all the kids to watch some of his presentation and Matthew was quite taken by learning to play the spoons. We also played with marbles, Christmas clothespins, mugs and cotton balls, costumes and stamps. Amelia and Michael did some stamping. Michael continues to enjoy stamping one particular spot on the wall :( We also chased some rainbows.
We received boxes of citrus this week! Stacked up they are taller than Michael. I was very motivated to get those intended for others out of our house because Michael is convinced they make good bowling balls.
Much of the week was very cold. The kids played outside anyway. Amelia doesn't really like playing outside during the day but several days they went outside to play in the dark with the Christmas lights on.
Matthew took hand warmers to forest school both days. He's apparently building a hotel... WITH a hammock. His teacher says he has quite the imagination. On Thursday it was his turn to have his reading level evaluated by a second teacher. He's currently GB+ level 14, which he "reads easily", "with precision". He needs to work on his fluidity and not read too quickly. He makes a lot of corrections as he reads but it doesn't seem to affect his comprehension and he's very good at synthesizing what he read. This corresponds pretty much to what I've observed. Interestingly, I'd say he reads the same way I do (recognizing the shape of the word rather than actually reading it). He finished his reading challenge and got to pick a friend to play snakes and ladders with in a separate meet as his "recompense". They also learned to draw a reindeer - Matthew did one without following the instructions to see if following the instructions was necessary. He agreed that his second attempt was much better.
Elizabeth is having fun practicing her typing now that we've installed a new keyboard that forces touch typing. She's also been working on her watercolour techniques.
The last day of school was pajama day. Amelia got to eat breakfast (again) with her class.
You might also like
- Virtual School: Week 30
(0.434439)
- Virtual School: Week 10
(0.428818)
- École LaGlace
(0.425532)
- Virtual School: Week 20
(0.425336)
- Virtual School: Week 35
(0.423729)
All