March 7, 2021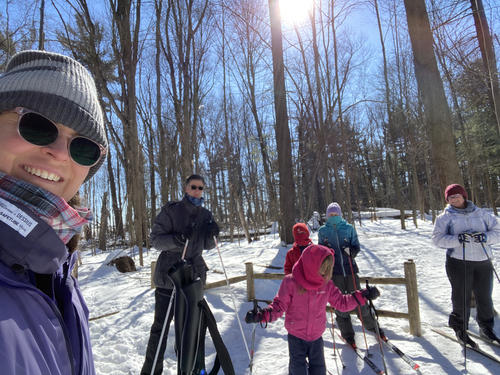 The forecast looks warm, so we thought we'd better get in one last ski. We thought we'd go back to Bruce Pit since the officially groomed trails would likely be busy. We met up with Dianne and ended up doing a 3h loop! We were limited to Amelia's pace but I was really impressed how well she did and how little complaining, especially after we got home and she showed me a giant blister she'd acquired in the process. What a trooper! Brendan fell hard at one point on the hard icy ground. He's decided that he prefers to ski in snow, not ice.
Dianne, Elizabeth and Matthew took a little detour where they could ski "properly fast" as Matthew put it. That was definitely their favourite part!
Michael had fun being pulled in the Chariot and even had a nap. Then he decided he wanted to run for the last half hour. He spent a lot of time chasing Elizabeth and trying to step on her skis. She was very patient with him until he tripped her and one of her poles got bent. After that she didn't let him catch her anymore. Overall we had a great time and while I put the skis away somewhat reluctantly the kids are now all ready for biking to start.
You might also like
- Hike in the woods
(0.41225)
- 12 Days of Christmas: New Year's Eve
(0.410622)
- Lac des Loups
(0.405286)
- Kichi Sibi Trail
(0.396671)
- River Oak
(0.390968)
All