January 15, 2021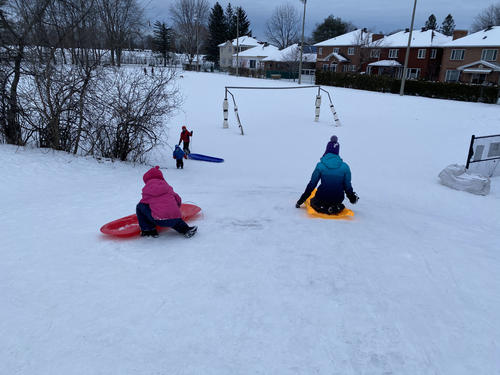 Kindergarten stations this week: Books, Drums, Lego, popup tents and blocks (upstairs). The kids in Amelia's class were building mazes at school this week to roll marbles down. She found this interesting but didn't really have the faintest idea of how to build a maze. She also really enjoyed painting snow outside.
Michael got a flashlight for his birthday and so there's been a fair amount of playing with lights. He especially likes for Elizabeth to come downstairs with him first thing in the morning, then they shine lights on the wall together.
Matthew's friend Nico is in remote school right now along with all the kids of Ontario. He's not enjoying it much as they kept the same breaks as in person school to facilitate transitions and so his sister Bianca doesn't have lunch or recess with him. They live right next to the park, so when we've gone to the park for our own recess, Nico and Matthew have enjoyed playing distantly but together. This week Amelia brought her frisbee and the kids all enjoyed playing monkey the middle for a while.
All the siblings came to pick Matthew up from forest school. We arrived about half an hour before the end of forest school, thinking that we could go tobogganing while waiting for him. Unfortunately they were near the parking lot when we arrived and Matthew spotted us. We did some sledding but it was obvious that Matthew was very distracted by our being there so we ended up going elsewhere and then coming back to do more sledding after school was over. Amelia and Elizabeth are more convinced than ever that "forest school" is too much fun to qualify as school.
We've finally moved bo classes indoors for the winter, after discovering that if we move all the furniture out of the living room Elizabeth has room for all her moves. She's a little worried about hitting things but it's workable for now.
You might also like
- Virtual School: Week 12
(0.429783)
- Social Distancing: Day 5
(0.424599)
- Virtual School: Week 7
(0.410664)
- Virtual school: Week 4
(0.410053)
- Virtual School: Week 10
(0.404967)
All