January 22, 2021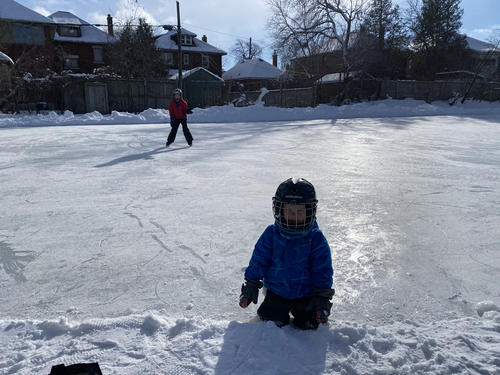 Kindergarten stations this week: Books, paint, float or sink sensory bucket, tangrams, paw patrol figures.
Amelia talked some of her siblings into coming and doing a dance party with her for gym. Amelia's discovered how to operate some of the suggested activities for her class on the iPad without a parent, so she can find stories, virtual geoboard and little videos to amuse herself with.
Michael's class for "grandir ensemble" did a "dress like your Daddy" day.
One of the days I took Matthew and Michael skating at the park in the afternoon. Elizabeth didn't want to miss school so the girls stayed home and played very nicely together outside for recess. Amelia thought "someone should keep Elizabeth company so she doesn't get lonely".
Matthew spent much of the week avoiding his classes and coming to see what Amelia was doing. Admittedly his classes can be extremely boring especially in the afternoon where they are apparently repeating a unit he did last March (telling time). He seems to now have a single supply teacher, but it's one that I don't particularly like.
Elizabeth has a pile of presentations to work on, including making a presentation about something she's passionate about. Eventually she settled on karate, but she wasn't at all sure about whether it was a good idea. "School is school and karate is karate and they shouldn't mix" apparently.
We also spent time this week getting ready for the winter feast.
You might also like
- Virtual School: Week 37
(0.415369)
- Social Distancing: Day 5
(0.409639)
- Virtual School: Week 11
(0.406561)
- Virtual school: Week 3
(0.406458)
- Virtual School: Week 17
(0.404571)
All