February 7, 2021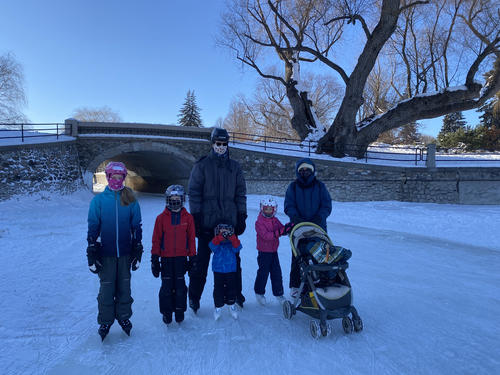 Elizabeth and I decided that we would skate every day that the canal was open and so far I have skated 30.7km and Elizabeth has done 32 km.
We've met up with Grandma a couple of times and the whole family skated together one afternoon right before piano. We made it back in time but only just!
Yesterday we got the whole family out for a skate on Dow's Lake. I skated with Amelia so I didn't go quite as far but Elizabeth and I have been out daily. Despite some grumbling, Elizabeth seems to feel that the satisfaction of being able to say we've been out every day outweighs the annoyance of having to put our skates on in the cold. She has noted that she plans to quit "in two weeks" and is definitely not doing this again next year.
You might also like
- Race Weekend (Children's Marathon)
(0.352745)
- Cottage Days: Jack and Olivia
(0.349153)
- Skating on the Canal
(0.346975)
- Family time
(0.342059)
- First Canal Skate 2013
(0.342059)
All