February 19, 2021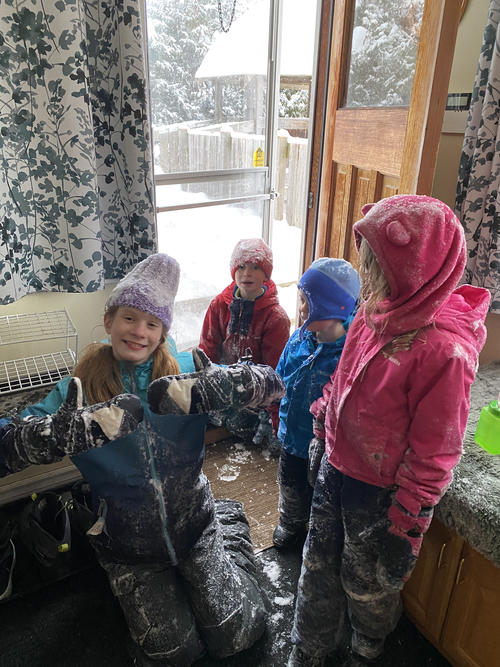 Amelia's class welcomed a new EA this week "Mme Hind". Seems like Mme Sarah is gone. They didn't exactly tell us this, but the classroom has been updated so we're guessing that's what has happened. So that means that all three kids this year have had a teacher leave and be replaced (!) Luckily in all cases the remaining staff was the one we liked the most. One benefit of having teaching duos this year I guess.
They are doing a Nunavut theme right now and all the kids had to pick a northern animal to do research on. Amelia picked the narwhale, of course, since she adores unicorns. This week there weren't any formal stations aside from books, but we did paint a couple of times, played with lots of lego, scattered cotton balls all over and played with playdough with such great enthusiasm that Elizabeth is lobbying for a total playdough ban in the basement. Amelia also enjoyed helping me make pretzels for lent.
All the children greatly enjoyed playing outside in the fresh snow this week.
I spoke with Matthew's teacher at length about his situation and our decision to pull him out of virtual school. She's encouraged me to talk to the principal about whether or not it would be allowed to go asynchronous for the morning classes only and not do the work for the afternoon classes (aka math). This would be ideal from my point of view; we'd continue to have access to the french resources (especially GB+) and a meeting with her every couple of weeks to answer questions and do some reading evaluation. She says if they don't allow a partial withdrawal she'll give us worksheets and won't remove us from things like GB+ but it's unclear whether or how quickly the school board will cut us off. As far as she's concerned Matthew is on track with his reading and she thinks that he would be fine next year in grade three even if we don't cover all the same concepts as these things do get revisited annually. So now we're waiting on that.
Matthew was inspired to catch up on the various activities he had skipped this month and we did a couple of science experiments together. He's really enjoying his Turing Tumble activities and has figured out the first twenty problems already!
Matthew spent a lot of time this week on prodigy checking out his new membership. "Stop doing math and go play!" is a phrase I never expected to come out of my mouth.
Elizabeth's art class did drawing and shading this week. She also enjoyed helping Michael do some fingerpainting, showing him and Amelia some of the blending techniques she learned in an earlier class! She had a big presentation on the Mars Odyssey. She had to do research, come up with a Google slides presentation and make her own model. All the kids in her class did various space related projects, which she is finding very interesting as she is passionate about space and science these days. Apparently those astronauts from Montreal really sparked an interest.
You might also like
- Virtual school: Week 4
(0.454333)
- Virtual School: Week 20
(0.451429)
- Virtual school: Week 3
(0.444713)
- Virtual School: Week 23
(0.443603)
- Virtual School: Week 35
(0.43872)
All