February 15, 2021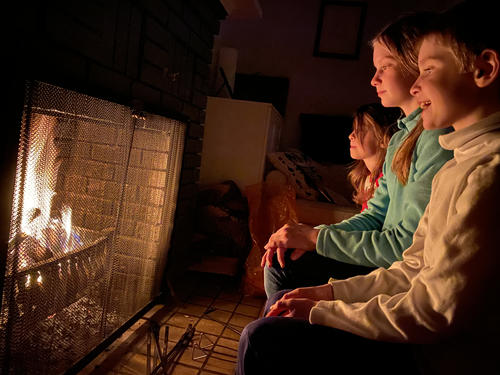 It was family day in Ontario, but in our house it was so-called Old Fashioned day. On our winter bucket list, old fashioned day was presented as living "back in an earlier era without reliable electricity" although the precise era was never really defined. The kids conceded we would be allowed to heat the house and use the stove but no electric lights or screen time. Really the whole idea was mainly an excuse to use candles and light a fire.
Since it was family day, Elizabeth and I went snowshoeing with Erika, Uncle Chris, Grandma J and Auntie Yukiko. Grandma J and Auntie Yukiko did a loop up to Carleton and the rest of us did a couple of short loops around Brewer pond. Apparently texting and taking photos on my phone was allowed, which was fine by me!
Matthew built a robot and played with his snap circuits set while we were gone. Elizabeth felt strongly this was not playing by the rules, but Matthew pointed out that the main rule was no lights and no screen time. Next time we might have to pick a particular era lol.
We did use zoom for piano, but we only used the lights during Matthew's lesson, and then only when it was his turn to play since Shana kind of needed to be able to see him and it was getting quite dark!
During piano, Elizabeth cooked dinner in the fire. Then we laid two fires - the first time ever while we have been living here and very probably the first time the fire has been lit upstairs. It was very exciting and somewhat made up for not being allowed to take real candles to bed. There are already plans for another old fashioned day in the summer. Or maybe next winter. Daddy thinks we should do a generator power only test. I guess we'll wait and see!
You might also like
- Christmas Pukefest
(0.402878)
- Old Fashioned Week
(0.4)
- Christmas
(0.399361)
- Snow clearing
(0.397108)
- Social Bubbles: Day 89
(0.395392)
All