May 26, 2010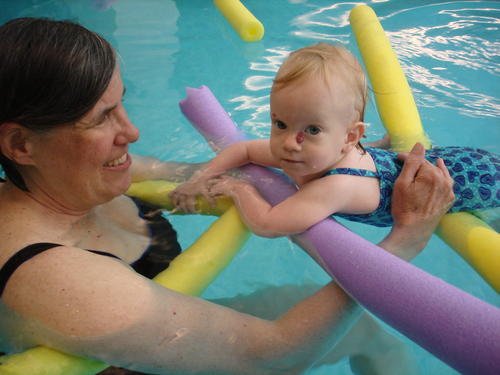 It's been HOT here in Ottawa, and although we have air conditioning at home the weather has been cramping Elizabeth's routine. She wants to go out, but it's not going for a walk weather.
So cousin Erika and Elizabeth and I headed to Grandma and Grandpa J's pool for a little splashing around. Elizabeth seems a little more comfortable in the water every time we go swimming. Supported by copious numbers of pool noodles I was able to tow her around the pool and get a little exercise myself! She's started to kick her legs in the water and even paddle with her hands from time to time instead of clinging desperately to Mommy like a little koala.
She even floated on her own although she still needs to be reminded that we don't drink pool water...
You might also like
- First swimming pool
(0.340568)
- Maria's first swim
(0.334477)
- Spring
(0.332759)
- Big Bed
(0.323097)
- Cottage Days
(0.321608)
All