February 12, 2021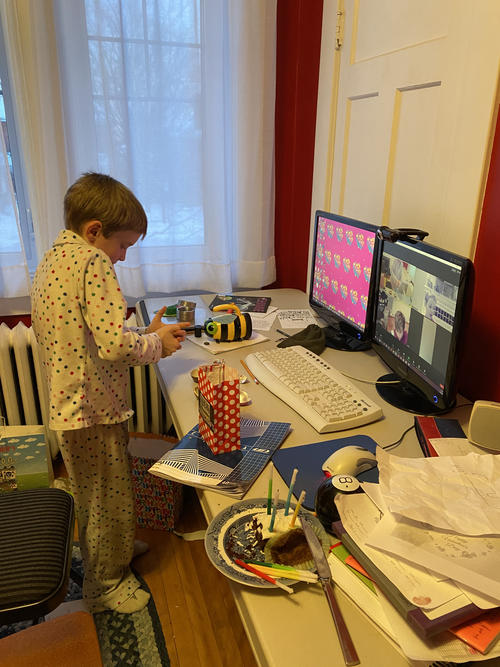 Matthew invited four friends (Ylan, Simon, Leo and Nico) to celebrate his birthday with him online. It was a bit complicated figuring out a time with Nico not getting home from school until later and Ylan having to leave at 5pm but ultimately we figured out a plan that seemed like it would work for most. Matthew is in his pjs because it was a pj day at school!
We started with a Minecraft themed scavenger hunt.
-turtle
-fox
-a nether portal
-a dragon's egg
Some of the kids found the nether portal a bit baffling at first, but when I asked them how to build a nether portal (Obsidian, flint and steel) and suggested they could find the elements (aka rock, fire and metal) most of them were able to find something. I was kind of amused by the number of kids who claimed they had no metal in their houses. "Not even a fork??" I asked. Suddenly they all had forks. I'm not sure if it was a lack of imagination or what.
By the time they were starting to get the hang of things it was time to bring on the cake. Matthew and I spent some time making cupcakes and assembling loot bags for all his friends in advance. It was my first time playing with fondant and I was quite pleased with the way they turned out. Then we opened presents followed by a free minecraft escape room made by a library in Florida.
The escape room was quite good but slightly too long/repetitive for this group. Matthew in particular clearly wanted to rip open his new toys and inspect them rather than solving puzzles hahaha. They did enjoy smashing into the wall at their first try and then actually escaping from the room.
Once they had finished the boys shared their screens and played minecraft together... but apart. Matthew had a really great time and can't wait to try a real multi-player game sometime.
You might also like
- Homeschool wk june 15-18
(0.384304)
- Michael's birthday
(0.380769)
- Virtual school: Week 4
(0.37987)
- Flying Squirrel
(0.373824)
- Halloween
(0.370805)
All