February 18, 2021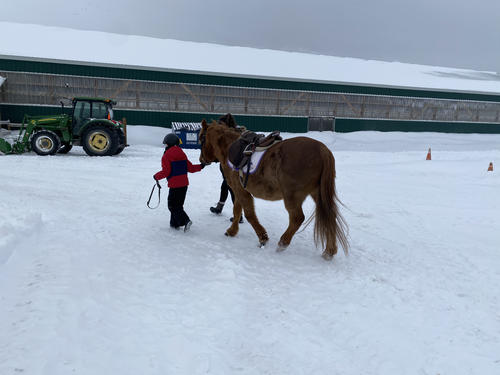 Matthew was extremely excited to be back in the saddle now that the restrictions have been lifted in Ottawa. I don't expect we'll get more than a couple of weeks but for the moment he's happy to be back in the barn.
His coach moved to a different day conflicting with forest school but long story short we ended up being able to come in the morning instead. Matthew is happy because he gets to stay with Alexis, and we're really happy because he's now the only kid in the arena for his entire lesson. The chance of overlap with kids in school has dropped dramatically.
Thunder gets winters off, so Matthew is trying out a new horse named Sprinkles. This is a very naughty horse that steals hay at every chance, so Matthew walked her around the arena and then rather futilely tried to stop her trotting over to the hay to grab a mouthful the second she spotted her snacks. Matthew said it was a bit scary especially as he was wondering if he'd forgotten everything since December but he pulled off a marvelous sitting trot and kept his head. After that Sprinkles got put on the leading rein to prevent her from misbehaving and they worked well together.

He's looking forward to next week already.
You might also like
- Riding update
(0.373955)
- Matthew's first skating class
(0.371303)
- Dentist again
(0.366931)
- Good Friday
(0.365462)
- First snow!
(0.364691)
All