May 28, 2010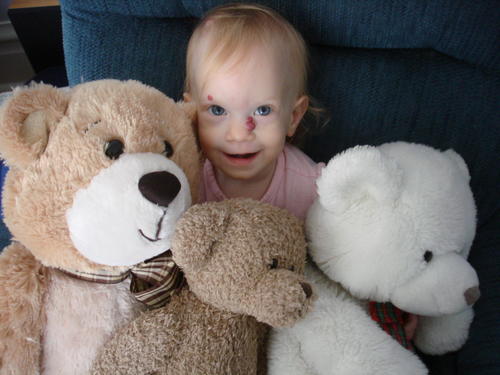 It's picture with a bear day! Just in case you were wondering, now that Elizabeth is over a year old we're only taking these every three months.
We no longer have a baby in the house. She's officially been replaced by a toddler. A slightly shaky on her feet toddler, but a toddler nonetheless.
At fifteen months, Elizabeth weighs approximately eight kilos (17.6 pounds). Her teeth are coming in one after the other but figuring out the current total is difficult without chewed fingers. There are at least ten (four front top, four bottom top and two molars). She chews her own fingers too. The other day she bit her thumbnail so hard she was bleeding from the bottom of the nail! We hope she outgrows this soon. Elizabeth still lets us brush her teeth, especially if she gets to brush Mommy's teeth too. Mommy only lets her do this as a special treat because Elizabeth brushes with great vim and vigour and Mommy has a strong gag reflex...
Elizabeth loves to do things and learn about the world around her. She is continuously pointing at things and expressing her desires. She still loves to read, play and snuggle her bears. She has started to climb anything that doesn't resist too hard and enjoys relocating objects around the house (including furniture). Anyone seen Mommy's new bank card?
1
On June 2, 2010 at 10:20 am
Grandma H.
said:
Oh, oh. Find your bank card yet?
2
On June 2, 2010 at 11:15 pm
Mary
said:
Nope... Luckily it wasn't activated yet so I could just order a new one.
You might also like
- Picture with a Bear Day
(0.361616)
- Amelia 21 months
(0.357838)
- Matthew is eleven months
(0.357074)
- Braking Leaves
(0.355198)
- Sledding
(0.354988)
All